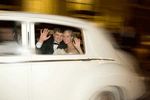 Vintage Automobiles
Classic limousines come in many makes and models. Classics can range in years from the 1920's through the 1960's. Most classic cars can only fit between two and four passengers. So if you want to include your entire bridal party in the same limousine, you may not want to choose a vintage model. Or, choose a classic car for yourself and your spouse, but hire a standard limousine for the rest of the party.

Vintage and classic limousine rentals often come with just the basics. The car may or may not have a radio or air conditioning, which is a must for a southern wedding—other than a winter one. Do not expect a classic car to include all the features of SUV limousines or stretch limos.

Couples who choose a classic rental do so out of their desire for the vintage vehicle, not for the extras that may be included with other rentals. The choice you make may depend on your personal preference, the amount of room you need for your gown and groom, or fitting it into a particular wedding theme.

Most companies will only have a few classic cars available to rent, as they are expensive to purchase and maintain. This will be reflected in the price of the limousine. Before booking a classic, price compare with other area limo services.

When reserving your classic rental, make sure you get the name or identification number from the agent who takes your call. You may be required to put a deposit down in order to reserve your rental. One week before the wedding, call to confirm your reservation. Double check that the date, time and place are all reserved correctly. Additionally, find out if the driver has ever been to your ceremony or reception sites; if not, consider giving them additional directions beyond their own.

Dos and Don'ts:
1. Never book a car without sitting in it first. You may sit comfortably now, but is there room for your gown, its train and full skirt—plus the groom? In order to keep rental costs low to ensure booking, some cars can be overworked and under maintained, and this will undoubtedly affect their reliability. Always ensure the car you view is the actual one that will turn up for you on your wedding day.

2. Ask what the car owner would do in event of breakdown on or before the day. Will they have a comparable replacement available?

3. Make sure the company is current on all required insurance.

4. Ask if the company has a dress code for the chauffeur. You want to make sure you will be provided with a well groomed, professionally uniformed chauffeur.

5. Likewise, since classic cars are smaller than a stretch limo and will probably only be able to accommodate the groom and bride, alternate transportation for the rest of the wedding party will need to be arranged.

6. You're not likely to have a glass partition for privacy, so you'll just have to get used to having your driver in close proximity.

7. Keep in mind that while some classic cars may have air conditioning, others do not. This might make for a very uncomfortable bride and groom if you are planning a summer wedding.

8. Make sure the classic car is clean. Overly greased door hinges do not combine well with whiter-than-white bridal gowns. In addition to inspecting the outside of the vehicle, make sure you have a look inside to see the overall upkeep of the interior as well.


Photography: Marsha Perry Photography