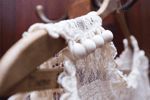 Something New
Something Old, Something New, Something Borrowed, and Something Blue. This old adage is meant to bring the bride luck on her wedding day. Over the next few weeks, Birmingham Brides will showcase one element of this proverb, explain its meaning, and highlight both traditional and new ways to incorporate the theme in to your wedding day.

Anything you purchase for your Wedding Day can be considered a Something New item.
• Your Wedding Gown
• Jewelry
• Purse or Small Clutch
• Veil, Tiara, or Wedding Headpiece
• Wedding Gift from the Groom
• Handkerchief with Your New Monogram
• Lingerie
• Honeymoon Clothing
• Make-Up
• Shoes
• New Penny
• Silk or Cashmere Shawl
• Leave Your Reception in a New Car
While Something Old acknowledges your past, Something New expresses optimism for the future. The wedding marks the beginning of marriage, which will be filled with fresh discoveries as you begin to truly understand and adjust to your partner. This is another element to the meaning of Something New—a new social entity, new discoveries, and a new way of life.
Need more suggestions or have questions about wedding traditions? E-mail us at Birmingham Brides for Expert Advice.

By Caitlin L. Cornelison
Caitlin.Cornelison@BirminghamBrides.com