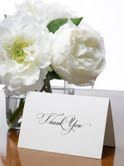 Thank You Note Tips
The afterglow of a wedding shower can quickly fade when you look around and come to a startling realization— you have to write a thank you note for every single item received. Yet there are ways to stay on top of it and make this task less painful and time-consuming. Here, we've compiled some helpful tips to help you smoothly navigate the thank you note experience.
The Importance of Thank You Notes
Everyone needs to be thanked formally for their gift, even if you had the opportunity to thank them in person. When a gift is delivered through the mail or via another person, a thank you note will ensure that you have received the gift and it has not been lost or misplaced. No matter how you feel about thank you notes, remember that it is proper etiquette and therefore a necessity. Many people, especially those belonging to an older and more traditional generation, will be offended if they do not receive one in a timely fashion. The best option is to avoid hurt feelings and write the note, no matter how frivolous you believe it to be.
The Traditional Thank-You Note
The traditional thank you note is white or ecru, but many brides choose to incorporate her wedding color or theme in to the design. This is perfectly acceptable, but remember that it is considered improper to use your married monogram before the wedding. Use your maiden monogram or choose to incorporate the first letter of your and your fiancé's first names into a beautiful design.
It is best to address a boss or superior formally. For family or close friends, the thank you note can read informally. Always mention the gift specifically and tell how you plan to use the item. When the gift is cash or a check, do not mention the amount, but explain how the money has been spent. Do not mention if you have returned a gift—instead, write as if the item is still in your home.
The Time Frame
If a gift is received before the wedding, a thank you note should be sent within two weeks. For a gift received at the wedding, etiquette suggests you send a thank you note in the month after you return from the honeymoon. They should certainly be finished by your three-month anniversary.
Late Notes
It is never too late to send a thank you note. You do not need to address its lateness or provide an explanation, unless you feel it necessary and are comfortable doing so. Instead, write a sincerely thankful note letting the person know how much it is appreciated and how you have put their gift to use. It is better to send a tardy note than not send one at all.
Quick Tips
· Write down or record everything you receive. Include a brief description of the gift and the name of the well-wisher. Check off the item when your thank you note is ready to be mailed.
· Keep addresses saved in your computer or notebook. You will save time if you have a master list for sending out all wedding correspondence.
· Finding the perfect thank you note can be hard. Go ahead and start looking after you get engaged. This allows time for the notes to be printed, personalized, and delivered if you have to order them online.
· Pick a design that you can use for non-wedding correspondence. That way, if you have leftovers, you can continue to use them.
· Get in the habit of writing a thank you note as soon as you receive a gift. This will make it harder to fall behind, especially when it comes time for bridal showers and teas.
· Do not try to write them all at once. You fall into the risk of writing short, generic notes instead of sincere notes. Set some time aside each day where you can write four or five, then move on to a more relaxing activity.
· If you do have a large amount to write, consider splitting them up between you and your fiancé. Let him write to his family and close friends, and you to yours. Sign both of your names.
· Consider ordering thank you notes when you order your invitations. Not only will your thank you notes closely match your invitations, but some places will offer you discounts if ordering them all at once.
· Gifts come in many different forms, so don't forget the gift of time or talent! If your friend's gift was singing in the wedding, send a thank you note. If your cousin volunteered her time to set up a rehearsal dinner or shower, thank her formally for taking her time to do so.
· Do not let yourself feel overwhelmed or exhausted by this responsibility. Instead, approach them in a good mood and let it spill over in to your writing.
· Have more questions? Ask an Expert on Birmingham Brides.
If completed quickly and correctly, thank you notes do not have to become a chore. Instead, it can be as it was originally intended—a time to reflect on the generosity and support of your loved ones.
Caitlin L. Cornelison
Editor, www.BirminghamBrides.com