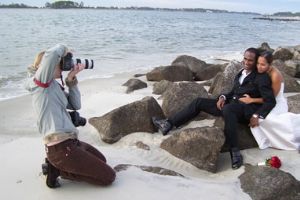 Wedding Photographer Booking a Photographer or Videographer - How Many Hours?

Lately I've seen a particular issue crop up while working with some of our clients concerning the number of hours in the photography and videography packages they choose to book.


I am adamant about finding the right photographer and videographer for you and believe it is very important to book vendors whose work you love, whose personalities you love, and that fit in your budget. A trend I've noticed recently is that couples are booking the photographers and videographers they love, but booking packages with less hours in order to stay within their budget. While this may seem brilliant, very few couples really examine the potential length of their wedding day and just think "oh we'll make it fit somehow". Then when the day comes to create the timeline with their wedding coordinator, everyone realizes that they don't have nearly as many hours as they need and are suddenly faced with an unexpected additional expense. Not good. So I've put together a few guidelines to consider when choosing how many hours to book your photographer and videographer.


First let me point out one common misconception. The number of hours in the package is NOT equal to shooting hours. The clock starts ticking as soon as the vendor arrives at the first shooting location (typically where the bride or groom is getting ready) and runs continuously from that point on. The more locations you have on your wedding day, and travel time between the different locations, the more time is going to be eaten out of those hours. That's something to think about when you're planning to book ceremony and reception venues that are 45 minutes apart (and then decide to get ready in a completely different location on top of that). Just something to keep in mind.


So how many hours should you book? Personally, I feel that 7-8 hours is sufficient for a typical wedding day that includes some final getting ready photos, 2 hours of portraits, a 30 minute ceremony, and 3-4 hour reception in which all locations are within reasonable distances from each other (10-20 minutes). In this case the photographers and videographers will typically arrive as the bride is getting ready to step into her gown, put on her garter, and slip into her shoes.


Now if you are planning on spending time with your bridal party on the morning of the wedding as you are all getting your hair and makeup done and want photos and video of it, plan on 9-10 hours of coverage time! (Yes, I put that in bold for emphasis). Same goes for if there will be a lot of travel time between locations on the wedding day. That may seem like a lot, but you'd be amazed at how quickly the time flies and how long a wedding day truly lasts. To give some perspective, my team and I begin our wedding days by checking in on the bride and/or groom while they are getting ready (so we get there about one to two hours before the photographers and videographers do) and then stay until tear down is complete at the end of the reception, and that usually amounts to about a 13-14 hour day.


Now you might be wondering about those 5-6 hour packages that some vendors offer, what are those for? Really I would only say that 5-6 hours of coverage is enough on a wedding day if you have a smaller, more intimate wedding in which the ceremony, reception, and getting ready locations are all at the same venue and you're fine with having a shorter reception. There are some couples for which this type of package is fine, but the majority of couples I work with really need to plan on more hours.


I hope this helps in deciding how many hours you'll need for your wedding photography and videography!