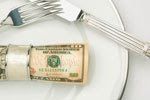 Tipping Guidelines for Weddings
By Meghan E. Cease
M. Elizabeth Events
"Who do I tip after the wedding?" So many of my clients ask me this question and it's always a tough one to answer. I feel there are no hard and fast rules that you have to stick by, but there are some vendors for which NOT tipping can seem a bit rude. And for the rest of the vendors out there, it sure is appreciated!

Tipping is never mandatory, but there are some folks that you should really plan on tipping, and the amount should be dependent upon the level of service. For catering, 20% is standard, so much so that they usually just include it in the bill as a mandatory service charge. Same goes for limousine companies, most just add that 10-20% right onto your final bill.

For valet-parking attendants (($1-$2 per car), restroom, or coatroom attendants ($1-$2 per guest), and bartenders (10% of final bill split among them) arrange to tip them in advance so that your guests aren't obligated to during the festivities. For vendors that work for a larger company (and don't own it) such as hair-stylists, make-up artists, DJ's, band members, and ceremony musicians, it is customary to tip 10-15% (divided up amongst multiple band members or ceremony musicians).

From there it gets a little sticky. Many websites and wedding books out there tell you that if any of your vendors own their own business, you don't have to tip them. And yes, this is true, you don't HAVE to, however I often explain to couples that it is the nice thing to do if the vendor was a pleasure to work with, did a great job, and especially if they went above and beyond their service.

Wedding vendors work in this industry because we love it. I know brides and grooms think the cost of a wedding is exorbitant, but vendors charge what they do to keep their businesses afloat, and to keep meals on the table. Giving a tip, or even a nice gift, is truly appreciated. And if, for whatever reason, you do decide to forgo a tip, at least write a nice thank you note!! It's also a nice gesture to take the time to write a referral or review on a website such as WeddingWire. It really does mean a lot to vendors. I am occasionally appalled when I see a vendor working their tail off to please a demanding couple, and don't even receive a thank-you at the end of the day. That's just poor manners.

Anyway...moving on. Here are some guidelines for tipping those that you don't HAVE to, but really should consider if they did a wonderful job.

- Catering Manager or Venue Coordinator: $100 - $200 or a personal gift
- Chef: $50 - $100
- Officiant: $100 - $500
- DJ (if they own their own company): 10% of the fee
- Photographer/Videographer: $100 - $200 or a personal gift
- Wedding Planner/Coordinator: 15% of the fee, or a personal gift

How should you deliver the tips? Always tip in cash since you may not know the full name of everyone you are giving a tip to. The week before the wedding, put the amount you expect to tip in labeled envelopes but don't seal them. Towards the end of the night, seal the envelopes, and hand them to your wedding coordinator to distribute.

There you have it! So again, tipping is never mandatory and you are not obligated to tip your wedding vendors, but it is kind and thoughtful after everything they do for you. And at the very least...send a thank you note!