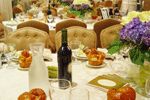 Entertaining Notes
"If I volunteer to be a hostess for an engagement party or baby shower, what kind of financial commitment am I making?"
Long gone are the days when everyone made their favorite appetizer, brought it to the hostess with the largest home and pitched in to organize the event. Today, time is the most expensive commodity that we have, as most of us work a full time job, have families and many other responsibilities outside the home, and do not want to be tied up with yet another commitment.
Engagement parties held at a private home with 100 guests for a cocktail supper (mid to heavy food selections), plastic-ware, beer and wine (purchased by committee) and invitations usually cost each hostess from $200-$300 (not including the hostess gift) and most parties have a minimum of 20 hostesses. Baby Showers usually have much lighter food, no alcohol and fewer hostesses. Your average expense of being a hostess is about $100 - $150 each (including the hostess gift).
Don't let these dollar figures and long hours of preparation deter you from volunteering to be a hostess, just call B&A and leave the work to us.