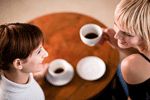 Making the Right Decision
Just because someone may be your closest friend doesn't mean they will make an outstanding maid of honor. Many friendships have been put to the test, and faltered, when the bride/maid of honor relationship entered rough waters. And as much as we would like promise that it never happens, it's a fact that many girls are jealous by nature, and no matter how close you are, may actually try to sabotage your day...whether it be on purpose or not.
Here are some tips will make your job of choosing a maid of honor much easier:
Be clear. Define your needs. Are you the do-it-yourself type, or do you want someone to be with your for every step of the way?
Be blunt. If you're high-maintenance, accept and acknowledge it. Pick someone who can truly be there for you, and let them know exactly what you want.
Be specific. More than one bride has bawled because her maid of honor forgot to do something she wanted. If you want them to make a toast at the reception, tell them!
Be strong. You should never feel forced to choose someone as your maid of honor. If your best friend has been supportive from the beginning, choose her and don't feel bad about skipping over a family member.
Be practical. Choose someone who lives nearby if you know you will need a lot of help. No one can do much from 2000 miles away, no matter how much they would like to.
Be realistic. Look at her life as well. Is she planning a wedding too? Starting a new career? Having a baby? Going through a divorce? If these things slow her down, which they probably will, can you pick up the slack without feeling let down?
Now that you've chosen, honor your maid of honor by letting her know how much you appreciate everything she has done, and will be doing, for you. Book a day at the spa for her, or enjoy a special dinner together to make sure you haven't lost sight of your friendship during the wedding chaos. Pick out a dress for her that stands out from the other bridesmaids and have her bouquet made with some special touches. After all, as your maid of honor, she deserves it!