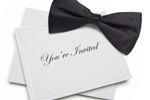 Managing the Guest List
Whether it's your mom pushing you to invite all her neighbors or your fiance insisting to cut your coworkers from the list, you're bound to experience some headaches in your guest list planning. But not to worry...there is hope. If you follow these tips, you'll minimize the chaos and shape your list into something that will please everyone involved.
Getting Started
Sit down with your fiance and answer the following questions:
What are your dreams? First, make sure you and your fiance are on the same page. Have you always dreamed of a small intimate wedding, or a huge bash? Do you envision a guest list of 30 or 300?
Who is so important that you can't imagine getting married without them there? Until your reception and ceremony venues are booked, you won't know how big your guest list can be. However, it's a good idea to start counting family and your closest friends as early as possible to get an idea of how many essential invites you have. After all, if you have 100 essential invites, then that will mean you can't book a venue that can only accommodate 75.
Who is absolutely not welcome? Now is a good time to discuss ground rules. If you don't like the idea of ex-girlfriends or ex-boyfriends coming, speak up now.
Who is paying for the wedding? If your parents are paying for the wedding, you should talk to them about how many people they want to invite. Some negotiation may be necessary here if you don't see eye-to-eye about the size of the wedding. If you and your fiance are paying, or it's a group effort between all families involved, compromise is still required, but it will probably be easier for you to call the shots.
What can you afford? Once you've set your budget, be realistic. How many people can you afford to invite? Ask yourself if it's more important to invite a lot of guests to a modest wedding celebration, or to invite fewer people to an extravagantly planned wedding? Remember that each person invited will add to the total cost, so if you're on a tight budget, a smaller wedding is probably the way to go.
Keep Quiet
Of course you're going to announce your engagement to close friends and family members, but because you know they will be invited, they're safe territory. Beyond that, don't personally call anyone else to share your good news until you know how many people you can invite. Most people will understand not receiving an invitation to a destination wedding or to a small, family-only ceremony, but not receiving an invitation to a 300 person affair after having to hear all the details for months is enough to offend almost anyone.
Dividing The Invites
Both families should be given the same number of people to invite, regardless of who's paying. What that means is that if you're having 200 guests and you and your fiance take 100 of the invites, his family should get 50 invitations and so should yours. If his parents are divorced, then they split the 50 evenly. If things work out that smoothly for you, you're lucky, but sticking with that strategy gives you a strong defense against accusations of favoritism. Of course, if one of you is an only child and the other comes from a huge family, you may have to reevaluate the numbers.
Don't Be Bullied By Family
Set boundaries and stick to them. This can be tough if one set of parents is footing the bill and demands a greater percentage of the guest list. But when it comes down to it, this is your event. Sometimes it's just a matter of increasing the size of the guest list, and the parent who goes over their number of invites can pay for the overflow. But often your venue will limit the guest count. That means if one side wants to invite more people, the other side will have to invite fewer people. Be firm and stand strong. Explain to everyone that this is a celebration for both families involved, and everyone must participate equally. It may not be easy or pleasant, but if you start to bend now, you may break before the wedding planning is over.
Get Organized and Get Online
As soon as you figure out your preliminary list, put the names and addresses into an Excel document or use a program on the internet designed to manage wedding guests. Having your entire list online means you always have access to it whether you happen to be at home, work, your parent's house, or the stationary store. The sooner you get your list organized and finalized, the better. You'll use those names and addresses from meal selection and seat assignments to the many thank-you notes you'll write along the way.
Create Two Lists
You are pretty safe to assume that 10-20 percent of your guests will not attend, so it makes sense to be ready with a second list of people you would like to invite to your wedding. If you've planned for 200 guests, for example, identify 240 guests as your primary list. These are the people who will get the first round of invitations. The rest, in order of importance, become the backup list. Once you get more than 40 A-list regrets, you can start on your B-list, sending out a few invites at a time until you get 200 acceptances. Don't wait too long though...no one wants an invitation the week before an event.
Response Cards
What do you do when the invitation is made out to one person and one person only, but the RSVP returns with two names crammed onto one line? Avoid the dreaded "and guest" dilemma by having your calligrapher write the full names of the invited guests on the RSVP card. After the names, include a blank line where they can indicate whether they will be attending or sending regrets. With this method, there's almost no way for guests to force an unwanted invite on you.
To avoid an illegible RSVP, number the backs of your reply cards in pencil and enter this number beside their name on your guest list spreadsheet.
What About Coworkers?
Unless you have a clear best friend at work, go with the all-or-nothing rule. If you plan to invite one member of your team, you should invite them all. Of course, if you have a true friend at work, someone you see socially even outside of office meetings, then you should absolutely invite them to the wedding. If your coworkers find out about the invite, it will make sense to them, and probably won't hurt their feelings.
Trimming the List
At some point between the compiling the first list and the sending out the invitations, you will more than likely have to cut some names. Creating a list of criteria that makes sense to both of you will make the job easier. Here are some suggestions:
If you have never spoken to, met, or heard of a particular guest, they get cut.
Single friends can only bring a significant other only if they've been in the relationship for a year or more (or live with the person).
Don't feel obligated to send someone an invitation, even if you were invited to their wedding or they are friends with many people who will be invited.