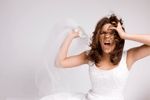 Avoiding Bridezilla Syndrome
Wanting the perfect wedding is perfectly acceptable; making everyone around you crazy with your demands and attitudes is not. When dress shopping becomes the arena for hashing out mother-daughter issues or the bachelorette party becomes a test of friendship, you know something is not right.
If you're wondering if you're getting just a little neurotic about this whole venture, read on. It's easy, in the chaos that surrounds wedding planning, to get a little carried away. When you see your bridesmaids exchanging glances that were not meant for you to see, you'll want to go through this handy checklist, and make the necessary changes.

Be realistic, not idealistic. The first thing a woman buys after her boyfriend slips a ring on her finger is a bridal magazine. This wealth of information is a good place to start if you do not already have ideas about what you envision your wedding day to be like. The problem is that these magazines usually include the most expensive and glamorous items, which are usually way beyond the budget of most couples. Being realistic about what you and your fiance can afford and coming up with a budget is a good place to start to avoid headaches down the road.

Keep demands to a minimum. Make a list of "must haves" and "deal breakers." Keep each list short though, no more than four or five things. If you find that your lists are growing longer every week, it's time to reassess and reconsider what really matters. Is it really necessary that all of your bridesmaids dye their hair the same shade of blonde?

Be polite. It is truly amazing what people will do when you ask nicely. Saying please and thank you and acknowledging that people are going out of their way makes it that much easier to have things your way. And sometimes, the only difference between a Bridezilla and a Perfect Bride is manners.

Are you afraid to delegate? If you think that you, personally, have to be in total charge of every single detail, you are setting yourself up for failure, conflict and a nervous breakdown when you realize that you really can't handle everything on your own.

Can you accept offers of assistance? Your wedding is not only the joining of you and your fiance, but also the joining of your two families. What this means is that there are a lot of people who love and support you and are willing to help however they can.

Don't sweat the small stuff. It is inevitable that something will not go as planned during the time leading up to the wedding, or on the wedding day itself. Caterers may be late and the flower girl may spill juice on her dress, but that's no reason to lose it. Realizing that you do not have control over every situation will allow you to stay composed and enjoy the day.

Find time for yourself. Even though many details of the wedding are focused on you as the bride, you may feel overwhelmed and not want to be in the spotlight all the time. This is why it is important to take time for yourself during the planning phase and spend some time doing things that have absolutely nothing to do with the wedding.

Treat the people you cherish with love. The wedding is one day; your family and friends are forever.

Allow others to vent. Give your fiance, family and bridesmaids permission to tell you when you're going off the deep-end.

Keep perspective and focus on the future. Remind yourself that the wedding is only one day in your life. With so much hype leading up to the wedding day itself, it is easy to forget about preparing for your life as a married couple. Yes, the wedding day is unforgettable, but forgetting that you will be together for the next 50-60 years is not good. When things get out of control, close your eyes and remember the reason why you are planning this wedding in the first place.
Finally, keep in mind that on your wedding day, your thoughts should be focused on the ceremony and what it stands for, not on the bridesmaids' tan lines or the dress your new mother-in-law is wearing. If you are unable to let the small details go, you will miss the big picture, and that would really make for an unfortunate wedding day experience.