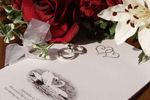 Creating a Wedding Program
A wedding ceremony program serves many different, important purposes in contemporary ceremonies. It is a guide to the order of the ceremony; it is a place to list the members of the bridal party; it is a way to explain any special rituals or customs in the ceremony to your guests; it is a vehicle for the bride and groom to express their gratitude and acknowledgements; and it is a beautiful keepsake for couples to put in a scrapbook as one way to always remember their ceremony.

Do you need a wedding program?

No etiquette book will tell you that you absolutely must have a wedding program, but they may be more important in the following situations:
If you are having a religious or traditional wedding, with many guests who are of another faith or culture
If you are having a large wedding, where guests are unlikely to know the bridal party
If you are having a particularly long ceremony where guests will want to be prepared to wait a while
If you have many people who you need to thank
That being said, there are many different ways to create a wedding program, depending on the circumstances of your wedding ceremony and the time, energy and resources that you want to put into creating a program.

Programs can be custom printed by the same company that did your wedding invitations, or they can be printed from a home computer. If you choose to make your own programs, select a sturdy paper that is compatible with your printer. Look for card stock that has been pre-printed with an image that matches the theme of your wedding. The programs will be blank on the inside, leaving you the freedom to get creative with your wording.

Programs can be as simple or elaborate as you wish. You might choose to list your program on a single piece of paper, or to make a miniature book that lists every last detail, from the name of the florist, to short bios of the wedding party, to the lyrics in each piece of music played at your wedding. Obviously, it's your day and the decision is yours as to what type of program you want to provide your guests with.
Elements of a Wedding Program
The cover
Typically includes the wedding date and names of the couple. It may also include the location and time of the ceremony as well as a picture or design element chosen by the couple.
The order of events
This section helps your guests to follow your ceremony. List the elements of the ceremony, including processional music, greeting, readings, prayers, exchanging of vows, ring ceremony, unity candle ceremony, pronouncement of marriage, recessional music, and any other ceremony music. As stated above, your list may not include all of these elements, and it may include some not listed here. Be sure to list the events in the order they will occur.
The members of the bridal party
This is a list of the names of your bridal party and the roles that they are playing. Include the names of the parents/stepparents of the bride and groom, as well as the grandparents, the officiant, and any musicians or soloists.
Other things you may wish to include in your wedding program
An explanation of traditions or rituals used in your ceremony
A request for audience participation in certain parts of the ceremony (affirmation of the marriage, communion, singing, offering of the peace, standing/kneeling)
The bride and groom will often thank their parents, wedding party and those friends/family members who have helped them in some particular way.
If the bride or groom has lost a parent or other loved one, the wedding program is a great place to include a memorial for that person.
Some couples like to include a line about each member of their bridal party. This helps guests get to know the people that are special to the bride and groom.
An explanation of the significance of the location, theme, music, etc.
Quotes or poems about love or marriage
Directions to the reception
The bride and groom's new address
Just a reminder when creating your program -- some churches require a certain order to the ceremony, and your program must include whatever your church deems necessary. Talk with someone at your church and ask what is acceptable and/or required.