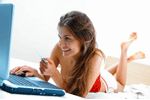 Writing Wedding Vows
Here are a few easy steps that you can follow to write your own perfect Birmingham wedding vows.
Make sure that everyone is in agreement
Talk to your fiance and your officiant to make sure everyone is okay with personalized Birmingham wedding vows. Some religions require that you use the traditional wording, while others will allow you to write your own as long as you include certain phrases. You also need to make sure that your fiance is on board with the idea of writing your own Birmingham wedding vows. While you're at it, decide together whether you want to write one wedding vow that you will both say, or whether you each want to write your own. Whatever you do, don't leave your spouse in the dark about your wedding vows. You don't want to end up with one partner reading a book and the other reciting three words.
Ask some simple questions
Get started writing your own wedding vows by doing your homework first. Find a window of quiet time and with paper and pen in hand, answer a few questions to bring out thoughts concerning your soon to be spouse and what marriage means to you.
What do you believe to be your fiance's greatest characteristic? Is he honest, generous, kind-hearted? Does he exhibit strength of character or integrity? You know who he is, otherwise you would not be getting married and describing him on paper will give you even more insight.


Was there a specific time when you realized this was the man you would marry? Can you recall when you first knew you loved him and wanted to spend the rest of your life together? Where were you? What were you doing? Can you recall how you felt at that moment?


How do you define the institution of matrimony? Why does being married appeal to you?


What is your favorite memory of your fiance?
When you were a little girl what did you dream your wedding would be like? Did you imagine what kind of man you would marry and how you would live?
Consult the experts
Take some time to read through a variety of wedding vows, as well as passages of poetry, love stories, bible verses and other famous writing about love. Romantics such as Keats, Shelley, Wordsworth, and Lord Byron can provide vast amounts of poetry that is well-suited for weddings. Print out your favorites and highlight passages that are meaningful to you.
Put it all together
Go back to the words you wrote before and highlight passages that you might want to include in your Birmingham wedding vows. Now is the time to start shaping your vows by selecting the very best of all the material you have to work with. Try taking a sentence or two from literature, add a sentence or two from the answers to the above questions, and finish with a vow - a sentence that begins "I promise..." or "I vow..."
If all else fails
Try filling in the blanks to a pre-written vow. Pre-written vows are a great alternative to traditional wedding vows when you want a little more creativity and personalization, but don't want the stress of writing your entire vows on your own. You can find various versions of wedding vows in books, magazines and on the internet. Here is an example:
I, (name), take you, (name), to be my (lawfully wedded husband/wife), my constant friend, my faithful partner and my love from this day forward. In the presence of God, our family and friends, I offer you my solemn vow to be your faithful partner in sickness and in health, in good times and in bad, and in joy as well as in sorrow. I promise to love you unconditionally, to support you in your goals, to honor and respect you, to laugh with you and cry with you, and to cherish you for as long as we both shall live.
Practice, Practice, Practice
First, try reading what you've written out loud to a close friend or family member. Ideally, this person should be a good writer, and someone who knows your relationship. They may have good suggestions for you, or the simple act of reading it out loud could help you identify places where you can improve. Once you've worked out a final version, practice reading it on your own several times to make sure you are comfortable with it for your Birmingham wedding.
Memorize Or Read?
After you have accomplished the feat of writing wedding vows, the only decision left is whether to memorize or read your vows. But even if you memorize well, make sure that you bring a copy of your wedding vows (and give an extra copy to the best man or maid of honor) so that nerves won't spoil all of your hard work. Another option is to have the officiant lead you by saying a sentence and having you repeat it.