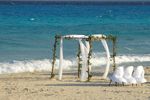 Ask an Expert: Elopement Reception Gifts
Answer by Alene Gamel of I Do, I Do!:
There are many ways to look at this, and I would think many answers as well. My feeling is this: If you are hosting the reception, and sending out the invitations I would not include a card with gift registry information as it will look as if you are asking for a gift. Many guests might be a little offended that you did not care to have them at your ceremony, but you are asking for a gift now.

On the other side of the coin, if you are not hosting this reception, and someone else is sending out the invitations, they could include a card with your registry information. This way it appears as if you are not asking for the gift, but that another friend is suggesting to the guest that they might want to give you one.

The bottom line on this question is that you should never ask for your guests to bring you a gift. It would be considered somewhat rude and insensitive. But, a friend can always host a party or shower, and hopefully your invited guests will understand that etiquette dictates that they should bring one.

And even though you eloped you should create a wedding website on Birmingham Brides, where you can share your reception event details and your registry.