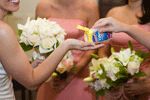 Stepmother of the Bride
Elene Gamel of I Do, I Do! Wedding Planning and Consulting answers...
Dear Bride-to-Be:
I am glad that you are trying to be sensitive to this situation, as this is one of the most emotionally charged issues in wedding planning. If we look strictly at etiquette alone there really is no traditional role for a stepmother. But, that doesn't mean that her feelings shouldn't be considered. She can be as involved as you want her to be. Whether you are close to your step-mom or not, but everyone in your family, including any step-family, should feel a part of the celebration, if they want to.

I encourage all my brides to talk through this issue with the mom and step-mom to get their feelings on what would make them the most comfortable. Sensitive and thoughtful communication can go a long way in helping each family member feel that they are important to you. Once you know what their desires and expectations are, you will have to balance that out with what is practical for the whole.

Seating seems to be an especially sensitive issue. I can suggest two options: if the mother and step-mother can tolerate each other and act appropriately, they can both sit on the front row, separated by the father. If they cannot tolerate each other even for a short time, the step-mother can sit in the second row, directly behind the mother. The father would be seated with his current wife in the second row.

Hopefully, both moms of the bride will be willing to overlook their personal feelings, even if for just one day, so that you will be able to have the day of your dreams filled with only happy memories. Best Wishes!
Photo: Avalon Studio