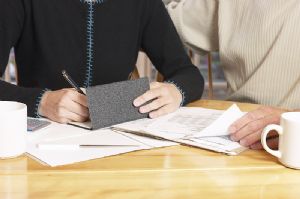 Proper Planning
Although this should be the happiest time of your lives, big change and big decisions bring major stress. Cope with it by communicating with each other and with parents, especially if they are helping pay for the wedding. If you need a budget, set it now, but be careful not to underestimate costs. And determine how wedding expenses will be shared.


Traditionally, wedding expenses are taken care of by the bride and her family while the groom and his family pays for the bride's rings, the rehearsal dinner and the honeymoon. But in recent years as couples are marrying after starting their careers, many couples are paying for some, or in some instances all of the wedding. This allows the couple to have the wedding they choose. But be certain that it is understood by all involved exactly who is willing to pay for what and how much.


If the wedding of your dreams is not affordable or does not suit your fiancé, meet in the middle by compromising. Determine the approximate number of guests by having the groom and his family and your family make a rough guest list.

The list should include three categories: those who must be invited, those who should be invited, and those who would be nice to invite. This will help you shorten the list later if needed. Yet your budget determines if your wedding will be intimate or elaborate because the easiest way to cut costs is to narrow your guest list.


The details are many. And as the old saying goes, people don't plan to fail they fail to plan. Avoid getting overwhelmed by planning carefully for the happiest day of your life—not the most stressful!