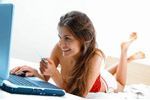 Version 2 of BirminghamBrides.com has just launched!
The new version of the website narrows its focus on the most popular sections according to traffic reports of our visitors and our member brides... the food related sections that profile our vendors who have event facilities for and/or cater.
These sections are now the main menu navigation and main focus of the website: Parties & Showers, Brunches & Lunches, Rehearsal Dinners, and Wedding Receptions. We will also begin marketing the new version in July to caterers and restaurants, so expect to see more restaurants will be coming up in these categories as they have begun to market their private space facilities and catering to prospective brides and grooms.