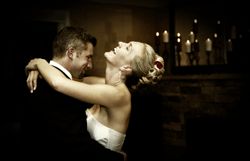 DJ vs Band
Before your wedding day, you worry about all the details. Whether the bridesmaids' shoes match their dresses, if there will be enough flowers to fill the ceremony venue, if your groom will love your gown as much as you do. But to turn a subdued ceremony into a fun-filled reception, nothing is as important as the music. While some brides choose bands, others hire DJs to create a party atmosphere at the reception. Yet there are pros and cons to both.
DJ Pros:
Large Repertoire: DJs have a larger selection of music to play. Many have a variety of music at their hands, so mixing country, rock, swing, and even rap will not be a problem. If you or your guest has a special request, a DJ can be more accommodating than a band.
Cost: DJs typically cost less than a band, since you are only paying for one person instead of several people. There are, of course, exceptions when the DJ is a celebrity or extremely popular in the area.
Breaks in Music: A DJ requires fewer breaks than a band. The same style of music will be playing while he is gone, so his absence won't be as noticeable.
DJ Cons:
Bad Chemistry: A DJ on autopilot can be a mood-killer at the reception. A good DJ interacts with the guests, but a DJ who cracks bad jokes or doesn't have a personality can affect the mood of the party.
Improvisation: The songs are recordings and cannot be changed. So when the guests are moving too fast (or too slow) for the song, the DJ will have no way of changing the music tempo to accommodate the guests.
Appearance: Since the DJ will not be the focus of the reception, his or her appearance might not be up to par. An easy fix is to clarify beforehand what type of dress is not acceptable.
Band Pros:
Wow Factor: Nothing beats the vibe from a live performance. Bands are more likely to take pride in personal appearance than a DJ, since more people will be drawn to their performance. They are also able to change the tempo of their songs to match the dance floor, as well as slightly tweak songs to give them a new feel.
Sound Quality: A live band typically sounds better then recorded music.
Wedding Theme Accommodation: A band can be the perfect prop for a themed wedding. If you're planning a fairytale wedding, hire a swing band. A retro bride may want a band that specifically plays music from the 1950's, while an outdoor venue may influence a bride to choose country music.
Band Cons:
Smaller Repertoire: A band usually has a specific style and is less likely to mix genres of music.
Breaks in Music: A good performance will tire the band out quickly. Most bands will bring a c.d. to play while on break, but the lack of stage presence may cause a lull in the dancing and atmosphere.
Cost: The cost of a band is typically higher than a DJ, since the band has more people splitting the payment.
Choose whichever fits your wedding best, but make sure you are familiar with the band or DJ well before the wedding day. Ask for recommendations, a sampling of their music, and their wedding playlists. Many have websites where you can download their music and read reviews. The lead singer or DJ will be leading the reception, so make sure that you enjoy their personality and that they are familiar with the songs you want played.
The pressure of the ceremony is off and the reception is your time to relax and enjoy an evening celebrating with your new husband, friends, and family. So whatever your decision is, make sure that you have fun!