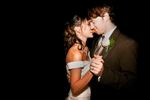 Lessons for a Perfect First Dance
Of all the wedding day rituals, the first dance as husband and wife is quite possibly the sweetest. It's a chance for the couple to be close, tell secrets, and just have fun together before mingling with all their guests. Of course, it can also be a source of major stress for the couple if they have not spent any time preparing for this moment.
One element that often gets overlooked in planning a wedding is fun! The time you spend together doing something enjoyable, like learning to dance, can be a much needed break from the chaos of wedding planning. It can be a very special, romantic time when you refocus on each other and your relationship. You can forget for a little while about the catering menu and the ever-increasing guest list!
Time becomes very tight in the last month before a wedding. Beginning your dance lessons a few months before the wedding date makes more sense than leaving it for the last few weeks. With the right amount of time, your teacher will be able to evaluate your dance skills as a couple and help you attain an effortless gracefulness for your first dance.
So how should you prepare? You should be able to find teachers who have experience with wedding couples at your local ballroom dance studio. When you call, ask if they have any special wedding packages available.
Most ballrooms offer both group classes and private lessons. Group classes are less expensive, but a private lesson will focus only on what you want to learn and go at whatever pace is best for you.
There are many types of partner dancing, so it is important to make sure your instructor is familiar with the dance style that you have chosen. Once you have found a suitable teacher, be sure to bring them a recording of your song. If you haven't chosen a song yet your instructor may be able to make some suggestions.
Another idea gaining popularity is making dance lessons part of the entire wedding party's activities. Parents of the bride and groom, feel more confident on the dance floor when they've had a chance to brush up on their steps. With a few fun group lessons, everyone will become less stressed and more comfortable with dance portions of the reception.
If you have trouble finding a teacher that you like, or if time and money are considerations, you may want to try learning to dance from an instructional DVD. There are several that cater specifically to wedding couples and their special needs. This will allow you to learn at your convenience and in the privacy of your home, which is ideal if either of you are nervous about learning to dance.
A good idea, whether you will be taking classes at a studio or at home, is to wear the shoes you have bought to go with your wedding dress. It will be a great chance to break them in, and to be honest, what is the point in learning to dance in tennis shoes if you will be wearing four inch stilettos on the big day? If you find you can't dance in the shoes you plan to wear during the ceremony, think about investing in a second pair of shoes for the reception.
Learning to dance for your wedding is a special gift that you can give to each other. You'll remember your first dance for years to come, not just when you watch your wedding video or look through your photographs, but every time you get up to dance.