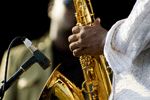 The Three Step
Follow The Flow
An experienced DJ or bandleader knows how to move smoothly from cake-cutting to a dance music.

Let's Dance
The most popular reception music is a mixture of pop music that is fun to dance to and slow dances. Follow tried-and-true formula is a favorite because it brings several generations onto the dance floor.

Attend A Performance
Listening to a CD of a prospective band's music is important. But attending an event where they are performing is even better, but don't crash a wedding. Here you can watch the entertainers to learn if they have fun at this and if the audience is responsive.