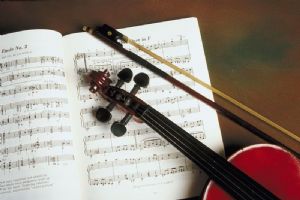 Our Song
The Ceremony
The Prelude is played during the first 15 to 30 minutes very beginning of the wedding, when guests arrive. Traditional options include classical instrumental music is traditionally played during the Prelude such as, "Air on the G String" or "Ave Maria".
The Pre-Processional is the time usually reserved for special friends, family members and other honored guests (not part of the official wedding party) to be escorted down the aisle. Classical music is traditional. A favorite song may also be played.
The Processional is the entrance of the Wedding Party. "The Bridal Chorus (Here Comes The Bride)" and versions of "Con Te Partiro" are popular choices.
The Ceremony is for exchanging vows and rings. It is also often the time for special prayers, songs, blessings, invocations and pronouncements. A friend may be called upon to sing a song of special significance to the couple on their wedding day.
Unity Candle is optional candle-lighting and brief period of reflection on the unity of the Bride and Groom during the ceremony. It may also include the joining of the two families as well, especially for second marriages with children involved.
The Recessional is bride and groom's walk down the aisle after the Ceremony. Traditionally the "Wedding March" is played. Yet a couple may opt for a favorite or an ethnic tune.
The Interlude-Postlude is the period of time immediately following the ceremony, before the main reception. Guests congratulate the couple and their families in a formal receiving line or informally during the serving of pre-dinner cocktails and hors d'oeuvres. Sometimes the guests enjoy a pre-reception glass of wine and hors d'oeuvres while the photographer shoots photos of the couple with the wedding party and family.
The Reception is for celebrating. It can be a formal sit-down dinner-dance, buffet or a small gathering with light refreshments. It may also include a band or DJ and dancing. Different styles of music played for various generations. For the grand entrance of the newlywed couple, a special announcement is made to introduce the couple for the first time as Mr. & Mrs. The couple have The first dance to music they have selected and a dance they have practiced. Cutting the Cake is toward the end of the Reception dinner.
| | |
| --- | --- |
| | |