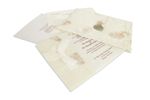 Your Wedding Brand
One of the hottest new trends in wedding stationery for 2008 is a term that is best described as "branding."
This is when a bride and groom take an idea or theme that best represents their personal style and uses it across their entire line of wedding stationery.
From the engagement announcements to the wedding invitations to the thank you cards, your stationery will display a common theme that perfectly expresses who you are as a couple. Family and friends will be able to see the common threads that weave the beautiful fabric of your personal wedding story as each new piece of stationery arrives in the mail. With such attention to detail and design, your entire line of wedding stationery will become like a modern art collection that you will cherish for years to come.
Designing your personal wedding brand should be a process that involves both the bride and the groom and should reflect your style as a couple. This could mean traditional and elegant, fun and whimsical, or modern and edgy...no rules apply when it comes to expressing what describes you as a couple.
Once you have decided on your personal style, how do you design your wedding brand? There are endless possibilities. For the traditional and elegant couple, think of having a modern monogram design that links your first names together. If you are the fun and whimsical couple, take a favorite photo of the two of you and have it converted to black and white, or have a local artist render a charcoal sketch from it. If you are the modern and edgy couple, you might have some type of small charm or token designed with both the bride and grooms initials engraved on it.
Once you have designed your wedding brand, you will then take this design and find a way to fit it into each piece of stationery. For the traditional and elegant couple, this may mean having each piece of paper embossed with your monogram design. For the fun and whimsical couple, you could have each piece of stationery pre-printed (lightly, of course) with your chosen image in the background as not to interfere with the text to appear in the foreground. And for the modern and edgy couple, you could use ribbon that will reflect the colors of your wedding to tie the small charm or token to each piece of stationery in an unobtrusive place.
The idea of a wedding brand is not to upstage the purpose and intent of each piece of stationery, but to display the individuality of the couple in a fashion that only enhances each piece of stationery. If these ideas don't seem to fit your style, consider designing your wedding brand around your wedding theme. Are you planning a romantic wedding in a beautiful church, a barefoot wedding at the beach or a destination wedding in Europe? Have you eloped and are now looking for a way to make the announcement to your family and friends? These are all things to keep in mind when adding the most personal touches to your wedding stationery.