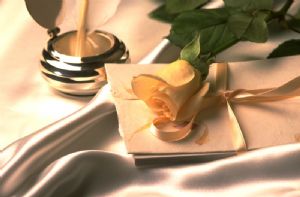 Your Wedding Invitation
Times change. New ways to communicate, from e-vites to My Space, continually develop. But certain things, even for the most modern of couples, remain the same. There are etiquette and standards for wedding invitations that make them something special. Here are some tried and true tips for making sure your invitations make sense and make people come to your special day. Here are the steps that you need to remember.
Hosting: The first names are always the people putting on the event. Traditionally that has been the bride's parents, so you'll see the classic Mr. and Mrs. But today it could be the couple themselves who are hosting the wedding. You might see wording like: "Together with their families…then the names of the bride and groom.
Request: The wedding may be in a church (you'll see language like, Request the honour of your presence at the marriage of their daughter). If the locale is a home or other non-religious venue, you might see language requesting the pleasure of your company.
The Couple: Use the bride's name first, of course, first and middle names; then the groom using Mr. and first and middle names.
Date and Time: Tradition dictates that the date and time are spelled out, but the more everyday construction using numerals is also acceptable.
Location: Use the address, even if the venue is well known, to make it easy on your guests.
Time for Reception: Be specific about the reception or party following the ceremony, so your guests know what to expect—full meal at a country club, cake and champagne at a home, etc. You can use a separate reception invitation, as well.
RSVP: You'll get responses more quickly if you include a separate reply card for guest RSVP. Be as detailed in your RSVP as you'd like, for example in requesting a date to be notified by or the number of guests expected.
What to Wear: Under the guise of the more info the better, you can detail the dress expected (Semi-formal, cocktail attire, festive attire, creative black tie, white tie, black tie optional, dressy casual, informal) and whether children are welcome.
| | |
| --- | --- |
| | |