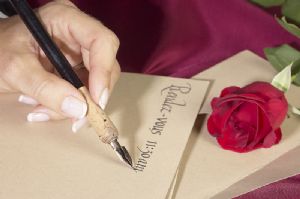 Pomp and Ceremony
Ceremony Program is given to guests as they are seated. It names the bride, groom, date and location of wedding, order of service, names of wedding party, parents, grandparents and officiant. It may also include vows, songs, readings, and directions to the reception.
Direction Card is a guide for guests to all of the wedding venues. It can be mailed with the invitations.
Double Envelopes are used for invitations. The inner envelope has the invitee's name only written on it. All enclosures are included in this envelope that is left unsealed. The larger, outer envelope is sealed and has name of invitee and address, as well as return address. It protects the inner envelope and enclosures.
Multiple Enclosures includes a wedding invitation, separate reception card, and a response set enclosed in double envelopes.
Reception Card is a smaller adjunct to the ceremony invitation communicating where and when the reception is to be held. This card is often used when the reception and ceremony are at separate venues.
Reception Only is an invitation to the reception when the ceremony is small and private. It is mailed in double envelopes with a response set. Guests who are invited to both the ceremony and reception with a wedding invitation enclosed in double envelopes with a response set.
Response Set is a set of cards is enclosed with a pre addressed, stamped envelope for guests to RSVP. It may state "The favor of a reply is requested" and a deadline for the reply.
Reserved Seating Card is sent to close relatives and friends. They are to present the card to the usher for priority seating at the ceremony.
Save-The-Date Card is a postcard that is sent four months prior to a wedding and six to 12 months prior to destination weddings.
Single Enclosure is a single card with the ceremony and reception invitation enclosed in two envelopes.