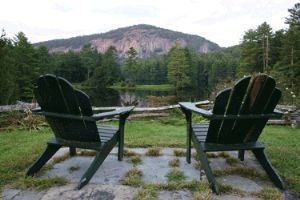 Camp Inn
High Hampton Inn offers a rustic mountain escape.

By Jan Walsh

If you like camping out, try "camping in" at High Hampton Inn & Country Club, in North Carolina's Blue Ridge Mountains. Since 1922 High Hampton Inn has hosted families who want to get away from the hustle and bustle and simply enjoy what life used to be—before we were "wired."

Listed on National The Register of Historic Places, the property is reminiscent of the camps of the Adirondacks. The Lodge was constructed of local materials in 1932. The lobby boasts a huge stone four-sided fireplace. Beyond the Inn's guest rooms are mountain cottages, for couples or large families. Some have fireplaces and screen porches, and all have fabulous views. For honeymooners or couples on a romantic getaway, the secluded Honeymoon Cottage is highly recommended.
High Hampton Inn is also "the" place to relax, rejuvenate and reconnect. There are no televisions or Internet connected rooms. Cell phone access is spotty at best, which makes a great excuse to tell the office you can't be reached and enjoy meaningful conversations with your family and new found friends instead. Then go back to your room where the breezes blow through the open windows (no air conditioning in most rooms) and take a nap to the background music of birds chirping outside.

Activity—if you must—centers around the 1,400-acre estate's private 35-acre lake. Go swimming, canoeing, fly-fishing, or just sit in a lounge chair and soak up the view. The lake's stream-fed waters feature a wading pool, swimming area, stationary swim-to platform, sandy beach, boating, and children's playground. The grounds also feature a fitness trail, golf course, tennis courts and spa.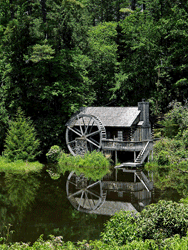 October is a beautiful time to visit. Due to its 3,600-foot elevation, the fall foliage is at its peak mid-October. And a climb to the summits of the mountains surrounding the property provides the best view of fall foliage. During the last two weeks of October, a natural phenomenon occurs—"Bear Shadow." As the sun sets behind Whiteside Mountain, its shadow creates a perfect image of a black bear dancing atop the golden, orange and red trees.

October also marks the second anniversary of High Hampton's exciting fly-fishing schools and first annual Octoberfest. Held during October 3-6, the three-day fly-fishing courses include expert instruction, half- and full-day river trips to the area's best trout waters and new Western North Carolina Fly Fishing Trail. And during October 15-17, the Oktoberfest House Party will break out the polka music, dancers, German beer and food.

"They" say the only thing that changes here is the seasons. High Hampton Inn is steeped in family tradition. It is famous for its family buffet for breakfast, lunch and dinner—at no extra charge to guests—as well as afternoon tea. High Hampton Inn was voted one of the "60 Best Family-Friendly Resorts" by Child magazine and one of "America's 50 Favorite Family Resorts" by Better Homes & Gardens. And their pet—friendly—policy is welcome news for the family's most loyal member. He will find the accommodations much preferred over the kennel and trails in need of exploration.
Published, B-Metro magazine, September 2010