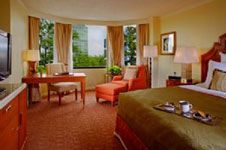 Spa Level Luxury
The Ritz Carlton, Buckhead, debuts new spa and spa level guestrooms and suites.

By Jan Walsh

Leave it to The Ritz Carlton, in Atanta's Buckhead to add not only a spa but also spa level guestrooms and suites—for ultra convenience. I recently enjoyed a weekend of rejuvenating solitude in a ninth floor, executive spa suite and the tranquil pleasure of a customized spa treatment.
Arriving under the portico of this renowned hotel, we are met by the valet, and our gracious doorman, James Wilson—who has worked at this hotel for 25 years. Wilson opens the doors for us and welcomes us with a friendly and dignified Southern hospitality. Inside the lobby are massive, crystal chandeliers sparkling above gleaming paneled walls, jeweled toned oriental rugs and velvet upholstered English antiques. Fresh touches of live plants and magnificent arrangements of fresh cut flowers dot the lobby—and the entire hotel. The lobby is open to the lounge of the same décor with a focal point of a roaring, marble fireplace in the lounge.
The spa and the spa level guestrooms and suites are located on the (elevator key access only) 9th floor. Entering our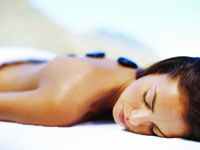 executive spa suite, there is an entry area with a bar to the left and a powder room to the right. The bar to the left has a mini bar below and a lovely array of crystal pitchers filled with flavored waters and bowls of fruits and nuts—including divine and addictive chocolate almonds. Both the living area and the bedroom have bay windows that wrap the end wall, providing a view from the front of the hotel and wonderful light throughout the suite. The living area has a flat screen television, desk with dash port for a computer, and is furnished in velvet upholsteries in light yellows. This room has a double closet housing a yoga mat, exercise ball and bands. And in the television cabinet are Pilates, yoga and meditation DVDs and books.

Unwinding in this suite is a dream. Tempur-Pedic® mattress and pillows, eco-friendly, microfiber bed linens with extra-fine weave for maximum softness, a noise machine, air purifier, and a Dreamtime sleep mask help me sleep tight. The marble bath has both an oversized shower and deep tub with amenities of oversized Turkish cotton bath towels, Spa bathrobes and Okabashi spa slippers. And Kerstin Florian spa bath amenities—shampoo, conditioner, body lotion, shower gel, bath salts and soap—packaged to take them home. For my spa treatment I could not decide between a Signatue Massage and a Caviar and Pearl Facial, so they combined both into a fabulous and custom package that left my skin glowing, my mind rested, and body relaxed!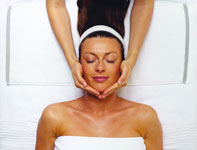 Another ultra convenience we have this weekend is The Ritz-Carlton Club® Level access. Food services are provided throughout the day and evening: of breakfast, light snacks, hors d' oeuvres, beverages and sweets—as well as wine and spirits. Each service is served buffet style and offers an array of scrumptious chef's creations. This lovely and private space, which also requires a special elevator, key to access, has a dedicated concierge and a computer for guests' use.

Admittedly, my previous Ritz Carlton experiences—both here and at many other destinations—have spoiled me. Thus my expectations of my accommodations and service are high. Yet they are met and exceeded once again.

Spa Level Packages are available, starting from $289 deluxe, $569 executive suite for overnight accommodations on the Spa Level. This package includes "Greet the Day Spa" Breakfast (Buckhead Muesli, choice of carrot-bran, blueberry or banana nut or muffin, freshly-squeezed juice with protein powder, seasonal fruit coffee or tea), ten percent off spa treatments, consultation with the Spa Concierge, fruit-infused waters and dry snacks placed in the guestroom, and overnight valet parking. Click to make reservations.