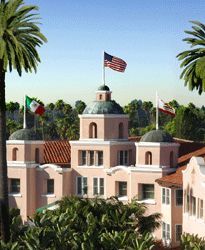 Legendary Lounge
Stars are "regulars" at The Beverly Hills Hotel's Polo Lounge.

By Jan Walsh

During a stay in Santa Monica, California, my husband Kevin and I take a day trip to Beverly Hills. Here we window shop Rodeo Drive and lunch at The Polo Lounge at The Beverly Hills Hotel. Situated atop 12 acres on Sunset Boulevard, this "Pink Palace" is a short and convenient distance from Rodeo Drive.
We arrive early for lunch—allowing us time to walk around the property and are greeted by valets in waiting at the porte-cochere. Walking up the famous red carpet towards the entrance of the hotel, I quickly realize that a stay here WILL be on my next California itinerary.
The hotel's restaurants have long been the place to catch a glimpse of celebrities lunching together. But—as on all of my trips—my email communications have no respect for legends. So I walk through the Hollywood Lobby, where Sidney Poitier danced barefoot past the ever lit, oak-burning fireplace, outside to a small, shady secluded patio in the Citrus Garden. As I sit down to answer an important email message vibrating on my iPhone, a celebrity chef—arguably the world's most famous—walks onto the patio. He then heads towards The Cabana Club Café, where he is seated poolside. What a recommendation for a restaurant!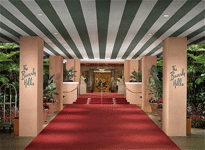 The rich and famous have enjoyed more than lunch at The Beverly Hills Hotel, since the hotel opened in 1912. The hotel offers 204 rooms/suites and 21 Bungalows, each with its own story to tell. Taking up residence at the hotel, Howard Hughes stayed here, on and off, for 30 years. From Bungalow 4 Hughes would come out after dark, to snatch his room service, roast beef sandwiches, which were placed in the fork of a nearby tree—as he requested.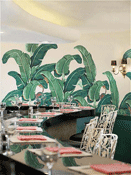 Bungalow 5 is the largest bungalow and has its own private pool. In this bungalow Elizabeth Taylor and Richard Burton had a standing order of two bottles of vodka with their room service breakfast and another two for lunch— followed by dish whirling arguments. This bungalow was also the love nest for Marilyn Monroe and Yves Montand. However Monroe spent more time in Bungalow 11 than any other, and Bungalow 7 was one of her favorites, which is internally dubbed, "Norma Jean."
The Fountain Café with it original bar stools and hotel's signature banana leaf wallpaper is a breakfast tradition. The pies and homemade ice creams tempt all. The power breakfast spot is The Polo Lounge Loggia. In 1972 H.R Halderman and John Ehrlichman learned of the Watergate break in while breakfasting here.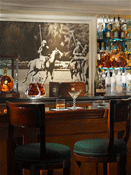 The legendary Polo Lounge still serves legends daily with executive Chef, Alex Chen's signature menu creations. Fresh flowers and living plants accent the warm woods and jewel toned upholstered stools, chairs and banquettes that fill the Polo Bar and Polo Dining Room. Past polo heroes celebrated their victories and exhibited their silver cups and trophies behind the bar. And a photograph of Will Rogers and Darryl Zanuck playing polo serves as the focal point today.
Beyond the dining room is the Polo Patio, where we will lunch in a private garden Booth #81. This very popular booth is ideally situated for viewing all who are arriving while being discreetly ensconced. For years, Charlie Chaplin had a standing lunch reservation at Booth #1.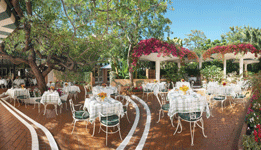 Lunch begins with a pitcher of bright and lively passion fruit iced tea, the Santa Monica's Farmer's Market Salad and Classic French Onion Soup. The salad is a fresh, crisp and a colorful mix—of shaved Persian cucumbers, cherry tomatoes, and baby beets: yellow, striped, and red beets—adorning an array of lettuces in a white balsamic vinaigrette—with parmesan shaved table side. I love French onion soup. And this is absolutely the best I have ever tasted. From the substantial, cheesy-topping on the gratinee to the deep, dark layers of flavors inside, the soup is delectable. And its braised beef makes the soup a meal in itself.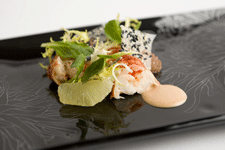 As entrees we select the Chilled Maine Lobster Salad and Sonoma Free Range Rotisserie Chicken. The salad's ingredients are deserving of their chef's artful presentation of sweet lemon, red grapefruit, lamb's lettuce sesame brittle and Sauce Rose Marie. The red grapefruit is the star of this dish, being the most beautiful grapefruit that I have ever seen or tasted. And the synthesis of flavors is ingenious. The chicken is moist, tender and full of flavor. It is served with scrumptious Yukon Gold potatoes in a natural pan jus. And a beautiful watercress salad accompanies the dish and rounds out the meal.
After tasting the first two courses, and seeing our two favorite desserts on the menu, dessert is not an option. It is a must! And we totally succumb, by pairing them with Homemade Hot Chocolate, rather than coffee. My Molten Chocolate Cake is served with butterscotch sauce and caramel ice cream. This dark dish oozes with hot chocolate from the center. The chocolate melts the ice cream into luscious chocolaty, creamy bites, which are accented and sweetened with caramel and butterscotch. The wedge of Carrot Cake with vanilla sauce and orange-ginger ice cream is almost too pretty to eat. Each bite is moist and finely textured—the ideal carrot cake.
The Polo Patio's setting, cuisine, service and guests are most impressive. As we enjoyed lunch, a host of celebrities came and went—lining the booths and tables for lunch. But at The Beverly Hills Hotel, their privacy is fiercely protected, so I never star gaze and tell.