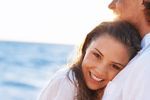 Delayed Honeymoons
More couples are opting to postpone honeymoon plans for a couple of weeks, a couple of months, or even up to a year after the wedding date. If this seems strange to you, consider the top reasons why they're waiting.
More Options:
If you have a dream destination in mind, do not settle for another location just because travel to the area does not coincide with your wedding date. Your ideal tropical destination may be in the midst of hurricane season. Your dream European vacation may be in the peak of tourist season, complete with high travel prices. Or if your destination has an event you don't want to miss, postpone. For many people, the honeymoon is the trip of a lifetime. Make sure you go where you want.
More Vacation Time:
Many couples who are still getting settled in to careers opt to wait and build more vacation. If you want a long vacation or need more travel time for your honeymoon, waiting may be the best option.
More Travel Money:
A wedding is a huge financial responsibility. If money feels tight after your dream wedding, consider postponing until your bank account has recovered.
Wedding Stress:
It's safe to say that most brides feel stressed as the wedding day approaches. Many brides confess to not enjoying the first few days of the honeymoon because she is still replaying the wedding in her mind, what went right and what went wrong. If this is you, consider spending your wedding night in a special place and then postponing the actual honeymoon until you're feeling more relaxed.
Adjustment Time:
Some couples need more time to adjust to married life. This is especially true if a couple has never lived together before or is moving in to a new home. Do not overwhelm yourself by trying to cram major life changes in to a small time frame, but enjoy married life. You will feel more relaxed when it is time for the honeymoon.
First Anniversary:
Consider saving up money and personal time off from work to plan an amazing first anniversary trip. This will extend the newlywed feelings and reenergize yourselves after the adjustments from your first year together.
The newlywed experience does not have to be lost to you just because you decide to wait for your honeymoon. Book a few nights in the honeymoon suite of a local hotel. Drive to a nearby destination for the weekend. Sip champagne and curl up together in your new home. But above all, enjoy the beginning of your new life together.
Caitlin L. Cornelison
Editor, www.BirminghamBrides.com