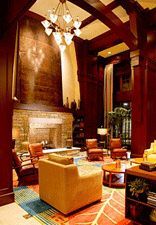 Fairy Tale Weekend
My husband and I recently enjoyed such a fairy tale, which included a stay in the Cahaba Presidential Suite, located on the sixth floor. More than a suite, this place should be a condo. Double doors open to a massive foyer that leads to a two-story, beamed ceiling parlor and dining area, seating eight. Above the flickering gas flames of the fireplace is a flat screen television. The fireplace is flanked by built in bookcases housing a collection of the classics. Jewel tones of ruby reds and golden yellow tones of the rich carpets and plush upholstery contrast with the mahogany toned bookcases, mantle, and ceiling. Live green plants and colorful fresh flowers add a personal touch. Two sets of French doors situated on a wall of windows—offering picturesque views of the golf course, windmill waterfall, and pool—lead to a balcony that wraps around the suite. Adjoining the dining space is a kitchenette with stainless appliances. The bedroom has its own sitting room separated only by massive columns. The fireplace from the parlor is replicated here with another flat screen television, bookcases and book collection. On the opposite wall is a massive king bed with yet another flat screen television. Two French doors on another wall of windows lead to the balcony. The bath boasts a Japanese soaking tub. Water falls from the ceiling down into this tub within a tub. Once the water reaches the very top of the tub and begins to spill over into the outer tub the jets turn on. Separate from the tub is a massive dual shower for two. It is difficult to leave this lap of luxury. But I have spa appointments.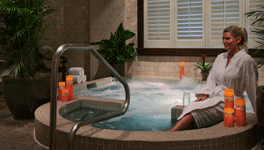 The Spa at Ross Bridge includes quiet rooms, 10 treatment rooms, sauna, whirlpool, steam room, complete salon services, and skincare products for purchase. Ross Bridge Facial cleanses, exfoliates and nourishes my skin with uplifting and soothing botanicals. The facial leaves my skin rejuvenated, hydrated and luminous. Ross Bridge Hot Stone Massage employs hot rock therapy using smooth basalt rocks placed on strategic points of the body and gently used to massage target muscles. The treatment promotes increased blood flow and energy balance. I leave the spa relaxed and rejuvenated.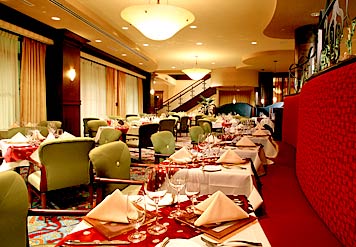 Lunch options include Brock's buffet—at the resort's fine dining restaurant. This beautifully presented line up is the fresh and delicious Mediterranean style cuisine of chef Robert Kamm. I begin with a bowl of chilled, tomato soup with slices of homemade bread. Next is a generous serving of hummus with pita chips with olive tapenade. I pass on the entrée of Beef Tenderloin with rice and grilled asparagus for the Paella that is full of enormous shrimp and mussels. There is also a sampling of various flat breads, such as pepperoni, sausage and tomato with olives. Among the desserts are chocolate mousse cake, lemon icebox pie, and pecan pie. Other Ross Bridge lunch (and dinner) options include The Clubhouse Restaurant, a casual, family-friendly restaurant serving an upscale menu of salads, juicy burgers, distinct sandwiches and hearty entrees for lunch and dinner.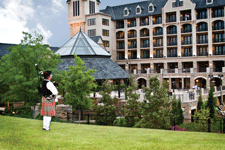 After a quiet afternoon, we sit on the balcony watching the fire pits flame, the sun set while listening to the Scottish tunes of the bag piper. And as the Ross Bridge bell chimes we dress for drinks at JT's and dinner at Brock's. Champagne flutes bubble and live jazz notes float through the air, at JT's, which also offers a light menu of sophisticated flavors and specialty martinis. And dinner at Brock's is the perfect ending to this lovely day. This restaurant is a favorite among locals as well as hotel guests and serves locally grown produce with the finest beef and fresh seafood. Read "Reservations" in this issue for a restaurant review of Brock's. And the last bite of the night is enjoyed in the suite—the rich chocolates left by the turn down service.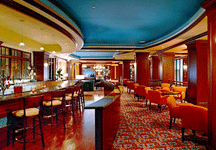 Although the sunrise from the suite is surely stunning, it is slept through. Morning also brings breakfast options at Brock's, where a beautiful buffet is waiting, or we could take a table there and order from the menu. But with a dining room for eight, room service is in order. After ordering from the breakfast menu, but before it was delivered, "At Your Service" called to confirm that everything we ordered was on the cart. Soon afterwards, a cart of traditional Eggs Benedict with Black Forest Ham and Hollandaise, two eggs over medium with sausage, and oatmeal (with accompaniments of butter, brown sugar and raisins) arrive piping hot and are set up for us on the table. The breakfast is served with a large pot of coffee, a champagne bucket filled with soft drinks and stems of both ice water and ice.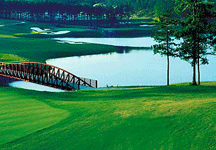 Typically we check out early on our last day of travel in order to get on the road or in the air. But home is conveniently 20 minutes from here, so there is no need to rush home. Thus we extend the Ross Bridge fairy tale until the clock strikes 11:00 a.m. and the valet drives our car to the front door.

Renaissance Ross Bridge Golf Resort & Spa
4000 Grand Avenue
Hoover, Alabama 35226
Phone: 1-205-916-7677
Toll-free: 1-800-593-6419