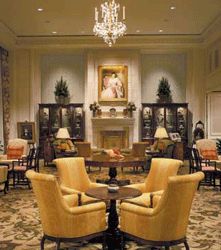 Kiawah Isle
My fantasy island has a—Mobil Five Star Award and AAA Five Diamond Award—seaside hotel and a staff whose Southern hospitality is as authentic as their familiar, Southern accents. It serves award-winning cuisine and in a variety of eateries from an ice cream shop to fine dining. My island has a gourmet market and other specialty shops that keep me from leaving this lap of luxury for mere shopping purposes. Relaxation is the way of life on this island. I enjoy a swim in the indoor lap pool and a signature massage, with heated grain and herb filled wraps placed on key tension points and major muscle groups, in the Mobil Five Star Spa upon arrival. Each day begins with heavenly sunrises and ends with miraculous sunsets over the Atlantic. And in between I find time to walk along the beach gathering as many beautiful shells as I can carry—as a memory of this day.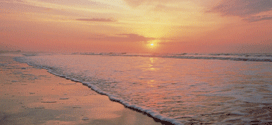 This paradise found is Kiawah Island, a barrier island, near historic Charleston, South Carolina. "Kiawah" (KEE-a-wah) is derived from the Indians who lived in the area during the 1600s, where they hunted and fished. The Sanctuary is the island's resort hotel with 255 spacious rooms and suites.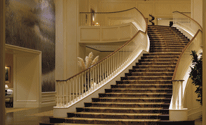 My recent stay included accommodations in a king room, which are among the largest on the East Coast with the smallest measuring 520 square feet. As we enter our room, romantic music from a harp draws us to the balcony. Below guests were being seated for a wedding on the shore side lawn. We enjoyed a bird's eye view of the destination wedding ceremony. On the following days the balcony makes the perfect spot for al fresco breakfast, with billowing views of the sun rising over the Atlantic.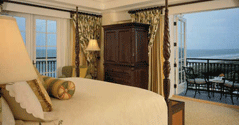 All hotel rooms are uniquely designed to include handcrafted desks, armoires, and custom made beds. Club Level accommodations, available from mid February through November, include the services of a personal concierge and access to the private club lounge with exclusive food and beverage events throughout the day. And the 3,100 square-foot Presidential Suite offers the ultimate stay. The suite boasts a fireplace and a grand ocean view balcony.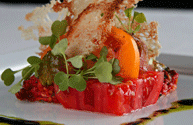 Lowcountry is the traditional South Carolina and Georgia coast cuisine. It is a synthesis of Southern cooking with shrimp, fish, crab and oysters from the region and influences of Caribbean and African cuisines—think Creole and Cajun cuisines. Kiawah Island offers a multitude of eateries. Located on the The Sanctuary's property are the Beaches and Cream, Lobby Bar, Jasmine Porch, Loggerhead Grill, and the Ocean Room. Beaches and cream serves gourmet ice cream and frozen yogurt as well as candies, pralines and breakfast pastries. Jasmine Porch serves the island's grand buffet breakfast and Lowcountry fare in the dining room and on the terrace. Overlooking the hotel's outdoor pools the Loggerhead Grill offers icy beverages made of fresh fruit and fruit juices as well as American fare. Here is an idea whose time has come—two separate pools—a relaxing adult pool and a fun family pool. The beach concierge arranges beach chairs, umbrellas and towels for guests on the private beach. And Loggerhead provides food and beverage service to Sanctuary's guests at the pools and the beach.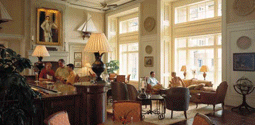 We adults also gather in The Lobby Bar in front of the stacked stone roaring fireplace or the bar's patio in warmer weather. And fine dining is found in The Ocean Room, which offers spectacular views of the Atlantic and modern interpretations of classical cuisine. The atmosphere is elegant with rich, golden velvet upholstery, sparkling crystal chandeliers, and gleaming silver. Immediately upon being seated a server brings a footstool for my handbag. Of all the restaurants I have ever dined, this thoughtful gesture is a first for me. We are tempted by but pass on the chef's tasting menu, "Expressions of the Season," which includes five fall courses with or without wine pairings. From the regular dinner menu, we enjoy appetizers of roasted Maine Lobster and Yuzu Mignonette Oysters followed by entrees of roasted Monkfish and Painted Hills Rib-eye. We ordered dessert early and saved the best for last with a divine dark chocolate soufflé with Grand Mariner Chocolate Ganache, John's Island Strawberries and a 25-year-old balsamic. The Ocean Room's ambience spills over to the adjacent bar. Here pre and post dinner libations and light fare are served.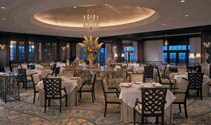 Located off the Sanctuary's property is another can't miss restaurant. Rumors of the spectacular sunset from the porch at The Ocean Course Grill are as tempting as the casual fare menu. This seaside Grill is surrounded by one of the island's five championship golf courses. Each of the five championship golf courses and the grounds of The Sanctuary are certified by Audubon International as Cooperative Sanctuaries. We arrive early to ensure a table and sip a bottle of wine paired with a steak quesadilla while watching the sun disappear below the water. This ends another beautiful day on Kiawah Island and the fulfillment of a long-held fantasy. www.kiawahresort.com