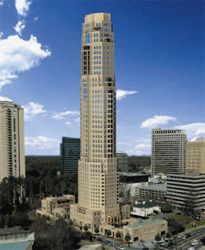 Castle In The Clouds
This 563,600 square foot, 42-story tower includes a boutique, ultra luxury hotel, with 127 hotel rooms (including 31 suites), and 45 exclusive residential units, ranging from $2,5000,000 to $12,000,000. A 15,000-square foot destination spa, 29 is the creation of Lydia Mondavi, and is the namesake of Highway 29 in California's Napa Valley. Also inside the main tower is NEO, a 95-seat full service restaurant serving contemporary, Italian inspired cuisine. And at press time, Craft Atlanta restaurant, with award winning chef Tom Colicchio, was scheduled to open December 8. The restaurant will front Peachtree Road in front of the main tower of the property. Colicchio's Craft Atlanta will serve haute cuisine of the freshest ingredients.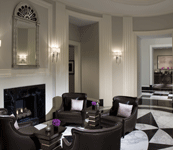 The hotel's ambience is a balance of complimenting contrasts. It is sophisticated and worldly, yet exclusive and intimate. The coolness of the black and white marble and the magnificent nickel staircase railing is balanced by warm, neutral plush velvet upholstery and cream colored, and chocolate leather furnishings.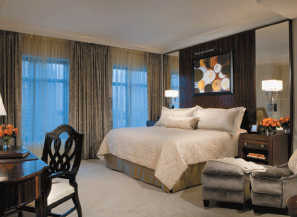 This pristine ambience continues into the spacious guest rooms with New St. Laurent marble, wood furnishings of a high gloss macassar ebony and chrome—as well as fresh flowers. The desk has a conveniently concealed data port built inside. Above the desk is a 37-inch LCD flat screen television that is also concealed—by a piece of art that retracts with the push of a button on the remote control. If James Bond came to Atlanta, he would stay at The Mansion On Peachtree. Award winning, spacious, marble bathrooms with deep soaking tubs and walk in marble showers have their own LCD televisions. Other tech amenities include multiline, cordless phones with voicemail and data line capabilities, Bose The Wave Music System, and DCD player. Wireless Internet is available for a daily fee.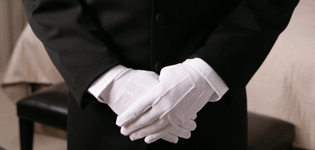 But what can top the luxury of having a personalized butler? He is at our service for whatever we need. He brings complimentary coffee service with breakfast bread to the room each morning—at my desired time—or with a wake up call. The butler is also available to serve a mid-day snack, hors d'oeuvres and evening cordial. Services also include twice-daily housekeeping and nightly turndown with a cookie and bottled water.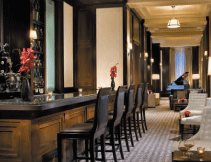 The Bar is a 30-seat library and lounge area overlooking a terraced English garden. Here mixologist, Stephanie Ruhe shakes and muddles her own concoctions. Enjoy her classic cocktails of The Bombay Sapphire, Grand Mariner Mojito, and The Demise of Violet Beauregarde. Bombay Sapphire Gin and GQ magazine awarded Ruhe as the "Most Inspiring Bartender" in Atlanta and "3rd Place" nationally for her creation of the Lady Sapphire.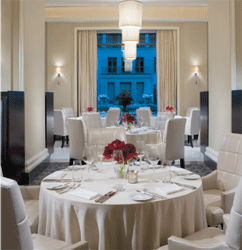 NEO is open for breakfast, lunch and dinner. This full service restaurant serves contemporary Italian-inspired cuisine, which changes seasonally to incorporate fresh regional ingredients. The restaurant has patios on and windows that overlook the English garden, and it features two private salons for group dining. Tonight's cena (dinner) begins with zuppe of Al Pomodoro with appetizers of Antipasto and Granchio. Al Pomodoro is their famous silky roma tomato soup with fresh basil. This rust colored soup is a tomato lover's dream as it is more tomato than cream.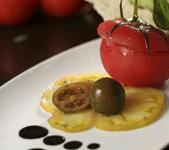 The anti pasta is an array of fine, delicacies—olives, mozzarella balls, muscadines, salami, grilled vegetables of eggplant, squash, zucchini and red pepper. The granchio is a gratinate of crab on a bed of purred butternut squash with piave cheese. Entrees are ordered from the Pasta and Risotto list, which is followed by the Secondi of meat, foul and fish dishes. The Raviolini is a lovely ravioli filled with veal, sage and artichoke in Parmesan brown butter. And the Penne is a beautiful bowl of pasta mixed with porcini, peas prosciutto cotto in a brandy cream. And a shared dessert—of three chocolates—makes a divine and happing ending to the evening.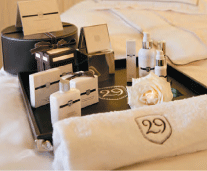 The Fitness Center features Technogym Fitness Suite—the first in Atlanta. A swim in the 60-foot indoor, climate controlled lap pool makes a perfect prelude to a spa treatment. 29 Spa spans the entire third floor. It features 14 treatment rooms, and the treatments incorporate the Mondavi's signature ingredient—grape seed extract. Mondavi is a fifth generation Atlanta native who designed 29 around the philosophy that natural beauty is not effortless, but instead comes from the dedication to understanding, protecting and nourishing the skin. The spa visit begins with a glass of 29's signature wine and includes time to relax in sauna and relaxation rooms. Highly recommended is the Cream of the Crop Facial. Hand-harvested, custom-crushed grape seeds from world-renowned vineyards gently exfoliate my skin while an anti-oxidant creamy moisturizing masque provides hydrates my skin.

There are six state-of-the-art meeting rooms for groups of 10 to 200. These rooms offer complete audio-visual services. And there is a complimentary business center with high speed wired and wireless Internet access. The hotel was recently named the #1 Luxury Business Travel Hotel by Global Traveler magazine. In addition to the five other meeting spaces, the 2,000 square foot Rosewood Room and the English garden also make The Mansion on Peachtree a lovely destination for a wedding and reception.
The Mansion on Peachtree is a great place to visit—or the place to live happily ever after.

View Mansion on Peachtree Website