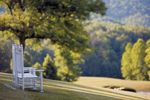 Epicurean Experience
I arrive at Blackberry Farm for the "Down Under" culinary event, held from Sunday June 29 until Wednesday, July 2, 2008. This event—one of Blackberry Farm's 2008 seasonal cooking school and epicurean events—showcases Mintz's wines and the skills and cuisine of guest chef Colin Crowley. Mintz and partner Michael Twelftree began making Two Hands wines in 1999. And accolades came quickly as their wines have been named in the Wine Spectator Top 100 for the last five years, with two listings in the top 10. The Aussie wines are divided into four series: The Flagships, Single Vineyard The Garden Series, and The Picture Series. And they recently released Two Hands Napa Valley series. Terlato Wines International distributes Two Hands wines. And as executive chef for Terlato, Crowley prepares meals for a demanding audience: the world's great winemakers.

The 63 guest accommodations include Estate Rooms in the Main House, Cottage Suites, Hill Cottages, and houses—a 1,080 square foot Cove Cottage and the 2,464 square foot Farm House—all beautifully appointed and furnished with fine antiques and ranging in price from $795 a night to $4,800 per night. My Holly Glade Cottage suite includes a wood-burning fireplace in the living area, windows that wrap around the space for a private view of the forest, and upholstered furnishings and draperies that feel like home. Room rates are based on the Full American Plan for two guests, which include nightly accommodations, three gourmet meals, pantry snacks, but does not include alcohol, tax or an 18 percent service charge. Yet tipping is not expected.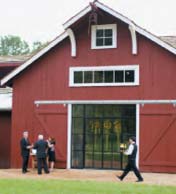 The Main House was originally built for Florida and Dave Laiser in the 1930s. Upon her first visit to the property, Florida snagged her silk stockings on a wild blackberry bramble, and thus the name, Blackberry Farm. In 1976, Kreis and Sandy Beall purchased the farm and evolved the private family home into a Relais and Châteaux designated hotel. Today their son, Sam serves as host at the farm, which along with other local farms produces eggs, honey, yogurt, lamb, fruits and vegetables served on the farm's table.

More recent evolutions at the farm include the departure of long time, renowned executive chef, John Fleer in 2007—who earned two James Beard Award nominations and the restaurant's Relais Gourmand designation—and the purchase of an adjoining 640-acre parcel of land. This property allowed space for 14 cottage suites, the Farm House, a creamery and jam making facility, and a multifaceted facility—The Barn, which opened in January 2008. This reconstructed Pennsylvania barn houses a kitchen, dining room and a multi purpose space—that is transformed from high tech cooking demonstration kitchen, by day, to a cocktail lounge by night. Down the staircase is an 8,000-square-foot wine cellar. Director of dining and beverage, Andy Chabot does a magnificent job of matching wines from the cellar with dining room chef, Peter Glander's simplistic style of cuisine, which focuses on the flavors of the region's food products.

The Down Under event begins on Sunday evening with a welcome reception, for the 14 event guests, in the Dogwood Bar. Champagne and cocktails flow freely as guests for the event meet Mintz. During the opening dinner in the Main House, we enjoy the, top tier, Flagship wines, paired with seven courses by main house chef, Joseph Lenn. The standout being a flavorful dish of Cheese Curd Gnocchi Chicken Confit and Swiss Chard—a gourmet's chicken and dumpling—paired with 2005 Ares Shiraz. Wine Spectator awarded this wine 98 points, and I would come back to Blackberry Farm just for this dish! Another memorable pairing is the 2005 Aphrodite Cabernet Sauvignon, which Robert Parker gave 98 points with a fennel pollen dusted, braised lamb. Two Hands wines are a tribute to and a challenge to what Aussie wines should and can be. "Let the fruit shine is our philosophy. I don't think anyone in the New World should try to create Old World wines. We have the sun beating down on us," Mintz describes. "Australian wines should be about purity of fruit because at the end of the day, that is what wine is—fruit."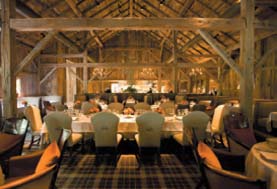 Breakfast each day of the event is at leisure and can be enjoyed in the cottage or in the Main House. Monday's breakfast is followed by a cooking demonstration with Blackberry Farm chef Glander in The Barn. After watching Glander demonstrate dishes for today's lunch, we taste through The Garden Series wines with Mintz. The tasting is held in Blackberry Farm's massive candle lit, tasting space, situated in the middle of the cellar, separated by glass walls.

Each Garden Series wine is named for a member of the Twelftree or Mintz family. Among the wines tasted include two of great notoriety. Bella's Garden is the namesake of Mintz's daughter, and the 2005 Bella's Garden Barossa Valley Shiraz was named number five in the Wine Spectator Top 100 2007 awards. Also tasted was Harry and Edwards Garden Shiraz, which made a cameo appearance in the movie, Sex and The City.

After lunch I enjoy a private tour of the cheese making process at Blackberry Farm with farmstead manager Neal Wavra, which ends with a tasting of two cheeses. The sheep greet me with a "baa" as I explore their pasture and the milking parlor. Violet is a lovely pasteurized fresh spring sheep milk and Singing Brook an unpasteurized, aged for 120 days, sheep milk cheese with a natural rind. Following the cheese tasting, it is time to dress for cocktails and dinner in The Barn, as there is no group event this evening.
Tuesday brings a cooking demo in the morning with chef Crowley, demonstrating dishes to be served at the Finale Dinner this evening. Afterwards the day is free to enjoy a variety of activities at Blackberry farm including fly-fishing, hiking, a spa treatment, horseback riding—Mintz's preference—and my choice—a picnic inside at the gazebo styled Boathouse on Walland Pond.

The event peaks on Tuesday evening with Cocktails in The Barn followed by the Grand Finale Dinner with Sam as host, featuring chefs Crowley and Glander's six courses paired with Two Hands wines, primarily from the Single Vineyard Series. Each and every dish is an exceptional display of the combined talents of these two chefs. Examples include the first course of a lovely and light soft shell crab—with a coconut curry sauce and spicy mango salad—and the last, a divine dessert of Blackberry Consommé with lemon olive oil cake. The highlight of the evening is when Mintz pours a 1.5 liter of 2003 Bella's Garden with the Laurel Creek Squab with Swiss chard and blackberry jus.

As we depart for Birmingham the following day, our car has been washed and is packed with boxed lunches and bottled water to enjoy on the ride home. And with a look back in the rearview mirror, I see the staff aligned—still smiling and waving goodbye. Three more cooking school and epicurean events will be held in 2008. Find details on their calendar at www.BlackberryFarm.com.