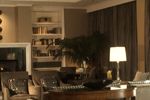 Beloved Buckhead
My favorite itinerary includes a stay in an executive suite at Intercontinental Hotel. Built in 2004—and Atlanta's first five star hotel since 1992—the Intercontinental is conveniently located near Lenox Square and upscale Phipps Plaza. The property boasts a spa as well as a health and fitness center. And the luxurious executive level and suites includes breakfast, snacks, cocktail hour, separate check-in area and valet service.


The Intercontinental has 24-hour European brasserie, Au Pied de Cochon—at the pig's feet—named for the original Au Pied de Cochon in Paris. The ambience is European with 350 hand-painted panels lining the walls beneath the warm glow of Italian hand-blown glass chandeliers. Jazz is played five nights a week. A raw bar features fish flown in daily from around the world. The best seats in the house are the chef's table, lover's booth, and outdoor terrace. Also not to be missed are the Escargots de Bourgogne. Lounge XO is also open 24 hours, and it supposedly has the largest selection of cognac—69 varieties including very rare bottles—of any hotel in the United States. Splurge on a Le Reve de Anges, made with Hennessy Ellipse, a dash of Chambord and topped with Dom Perignon. Or have a seat on the Lobby Bar's terrace situated on Peachtree Road, and enjoy cocktails, wines and a light bar menu.

Within walking distance of the International is my breakfast spot, Corner Café—located around the corner on Piedmont Road. The terra cotta building is also home to Buckhead Bread Company and their (baked on site) pastries, bread, cookies, and specialty desserts. Favorites here include the, hearty in portion and light in style, Strawberry Crepe. Other favorites include the Scotch Egg, a fresh hard-boiled egg, wrapped in breakfast sausage and baked, served with cheese grits and Italian toast. And their Eggs Benedict are a Buckhead tradition.


Corner Café is also open for lunch, offering the best sandwiches and most inventive salads in Atlanta. The George's Banks Jumbo Sea Scallops Golden Pineapple and Avocado Salad with citrus sour cream and fried tortillas is a memorable dish that I particularly enjoy during warmer months. The Roasted Chicken Breast with melted smoked mozzarella, red onion, tomato and Dijon mayo on an onion focaccia is comfort food at its best. And the California Crab Cake Sandwich on sourdough is full of crab, not filler with avocado, cucumbers, arugula and wasabi aioli.

My fork down favorite restaurant in all of Atlanta—Bone's Restaurant—is also located on Piedmont. This Atlanta institution, since 1979, has a long and growing list of food and wine accolades, which are well deserved. From the moment I walk in the door, for lunch or dinner, I feel at home. The staff ensures that all guests feel the same. More than impeccable service, Bone's staff represents southern hospitality at its best. No snobby servers here. The friendly, without being intrusive, bartenders and servers recall faces, names and preferences from second visits forward.


The ambience of classic steakhouse décor is just as welcoming. Caricature pictures decorate the bar area. Atlanta's history lines the walls of the main dining room, and oil paintings of dogs hang in the back room. I have two favorite seats in this house. One is a seat at the bar—when I don't want to plan ahead for dinner. The full menu is served at the well staffed bar, where bartenders enjoy having dinner guests. For a romantic dinner, I reserve a table by the brick walled wine gallery with views of the wines cellaring behind glass doors.

But no matter where I sit, the first judge of a restaurant is its wine list and its bread. The wines range from more affordable steak and seafood friendly bottles to the better vintages of first growth Bordeaux. Bone's pining hot-crusted bread melts the butter instantly. The Lobster Bisque is divine. A large white bowl of salmon colored bisque arrives steaming with tender lobster floating in the center. And the server then tops it off with a touch of sherry.

Other can't miss dishes are the Live Maine Lobster, Crab Cakes with Roasted Corn-Tomato Sauce, Loin Lamb Chops and of course—any steak on the menu. The thick cut, prime beef is cooked precisely to order. I hear and smell my 10-ounce petite filet coming as its sizzle and aroma find their way just before the steak itself. I also never miss the hash browns. They are crispy on the outside, moist and tender on the inside and a portion that is more than two of us can eat—but we keep trying. Another great side is the grit fritters, which hold both local and national acclaim.

The last judge of a restaurant is its dessert. So it is sad to admit that I have never had a dessert here. With the hearty portions of consistent perfection I am left too satisfied for another indulgence and am unable to judge the final course, which gives me an assignment for my next trip to Buckhead.