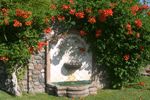 Wine and Roses
Pleasanton's founder, John W. Kottinger named the town after his friend, Union army cavalry Major General Alfred Pleasonton. Yet it is believed that a typographical error led to the current spelling. In the 1850s, the town was nicknamed "The Most Desperate Town in the West," and bandits and desperados ruled it. In 1917, Pleasanton became the backdrop for Rebecca of Sunnybrook Farm and was home to Phoebe Apperson Hearst, who lived in a 50-room mansion, 2,000-acre estate, which is now the Castlewood Country Club.


Stroll, shop and dine in Pleasanton, where pedestrian traffic and al fresco dining are the town's forte. The Main Street's specialty shops welcome visitors and locals. Independent restaurants line the street and satisfy all cravings—with its mix of fine-dining, casual, and ethnic restaurants. It is both a "nice place to visit" and a beautiful, thriving place to live. Well-kept, lovely homes in a tree-lined neighborhood are within walking distance of the downtown's Main Street. In 2005, the Census Bureau ranked Pleasanton the wealthiest middle-sized city in the United States. Many famous athletes call it home, and corporations locate their headquarters here. Residents include Football Hall of Fame coach and commentator John Madden, who lives in a historic restored adobe and headquarters his production company in Pleasanton.

Pleasanton's luxurious Rose Hotel synthesizes hometown hospitality with modern city conveniences and hosts wine country guests and business travelers. Situated in the heart of Main Street, the hotel is within walking distance of every restaurant and shop on the Main. Window boxes filled with blooming pansies lead guests inside where a focal point of a floating staircase—and a bride's dream—rises to the second floor. The rose theme is found throughout the hotel in both its architectural design and a fresh rose in every room. Amenities include turn down service, marble baths with whirlpool tubs (for two) and separate showers, luxurious bath robes and slippers, desk and high speed internet, same day laundry and dry cleaning, an on-site fitness room, mini bars, and a covered main level parking, a laptop for use upon request, complimentary fax and photocopying, shoe shine and complimentary breakfast. Accommodations include spacious deluxe guest rooms, fireplace suite, king suites, and a grand suite with its own parlor.


After the first night's stay, it is difficult to leave both the hotel and Pleasanton even for the day. Yet the gravely soils of Livermore Valley are just a short drive away. Livermore Valley received America's first international gold medal for wine in 1889 at the Paris Exposition and was the leading wine region in the state until Prohibition. And the region has produced award-winning Sauvignon Blanc and Chardonnay for six decades. The Valley is named for Robert Livermore, who planted vines here in 1846. But it has been the Wente and Concannon families who came afterwards that have made this winegrowing region thrive. Both C.H. Wente and James Concannon started their wineries in 1883—known today as Wente Vineyards and Concannon Vineyard.

The Wente property is a destination in itself. It boasts a terraced outdoor amphitheater, luxury restaurant, Greg Norman designed golf course—that has made the PGA tour—and the sustainably farmed estate vineyards.

Today's itinerary begins and ends with winemaker, Karl Wente. Upon first impression, the 6'7" fair-haired, 30-year-old, Karl Wente looks younger than his age—and more like a beach boy than a winemaker. Yet after a day of touring the Wente vineyards tasting and lunching with Wente, his education, experience, and intellect for winemaking are apparent—and most impressive.

Wente grew up working at Wente Vineyards and other wineries, such as the Peter Michael Winery in Sonoma and Brown Brothers in northern Victoria, Australia. After playing basketball for and graduating from Stanford University with a degree in Chemical Engineering, he attended graduate school at the University of California at Davis—where his father, uncle, and grandfather also studied. Here Wente earned two Masters Degrees, one degree in horticulture (viticulture) and another in food science (enology).
Wente presently oversees the production of the winery's Vineyard Reserve and small lot wines. His passion for artisanal, handcrafted wines has led to the recent addition of limited release wines—The Nth Degree—to their diverse portfolio of estate grown wines. "Successful winemaking remains a blend of insight and experience," Wente says. "And there is a lot of institutional knowledge at Wente, including my uncle Phil and our vineyard guys, some of whom worked for my great grandfather."

A visit to Wente's home and his passion for music is apparent. His living room is set up like a sound studio. However, tonight's entertainment is a Huey Lewis and the News concert in the winery's amphitheatre. And before the concert is a four-course winemaker dinner with Wente, at the Wente Vineyards Restaurant, which Wine Spectator awarded, the "Best Award of Excellence" every year since its opening. The restaurant has also repeatedly been honored as a "Distinguished Restaurant of North America."

The following day brings a visit to Murrieta's Well, another Wente owned winery. Named for the notorious Joaquin Murrieta, who spawned the legend of Zorro and who roamed California during the Gold Rush era, rustling cattle and horses from wealthy ranchers. Legend has it that Murrieta and his men often stopped at the artesian well on this property to water their horses. In the 188s, Louis Mel bought the surrounding property and built a gravity-flow winery along side the well. He planted cuttings of Sauvignon Blanc and Semillon imported from Chateau d' Yquem and obtained Bordeaux cuttings from the commune of Margaux.

Afterwards Ernest Wente bought the property from Mel in the early 1930s. But it was not until the 1990s when Ernest's grandson, Phillip and winemaker Sergio Traverso combined some of the original plantings to create old world style, field blends. Today grapes from this sustainably farmed 92-acre estate vineyard and the adjacent Raboli vineyard are made into Murietta's flagship wines: Red Meritage, White Meritage, Zarzuela, and old-vine Zinfandel.

The final day in the Tri-Valley brings a visit to Concannon Vineyard and lunch with the legendary Jim Concannon. His grandfather, James Concannon began making wines here 125 years ago. Concannon's grandfather, who left Ireland to seek his fortune in America, began the winery by making sacramental wines. And the tasting room boasts the oldest documented bottle of California wine, a 1929 Angelica, a sacramental wine.

Concannon Vineyard also made America's first Petite Sirah, producing the first varietal labeled Petite Sirah 1961. And Winemaker Adam Richardson presently makes several versions including Central Coast and Heritage—made of the best lots, best grapes, and the best vintages.

"We are thrilled to be celebrating our 125th Anniversary of handcrafting world-class wines with an unparalleled level of investment in our winery and vineyards," Concannon says. "We opened a 50,000 square foot barrel, cask and bottling annex in December 2007, just feet from our original winery." Concannon is also building a new 400-ton ultra-premium micro-winery for their small lot estate wines and investing in their estate vineyard blocks to preserve the time-honored heritage vines and continue to evolve the quality of their Bordeaux and Rhone-styled wines. "At 125, we're still a young winery, and we expect to be writing chapters for another 125 years," Concannon assures.

Plan ahead for a memorable wine country trip that includes more than wine, pair Livermore Valley and Pleasanton. Schedule a tee time, make dinner reservations, purchase concert tickets, and make appointments for touring and tastings.