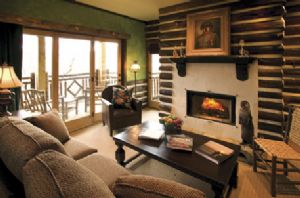 High Expectations
Honeymoon in rustic elegance at The Lodge at Buckberry Creek.
By Jan Walsh
Make the world go away with a weekend get away to The Lodge at Buckberry Creek. There are no planes to board, no need for an itinerary, no shopping for appropriate attire, and no roughing it. And afterwards—there is no need for a vacation from this honeymoon. Nestled high atop the Smoky Mountains, on its own 26 acres, this luxurious lodge recreates the authentic splendor of yesteryear's Adirondack lodges. To the Smokies, Victor ("Buddy") and James McLean transported logs and other structural components from upstate New York, North Carolina and Tennessee. Also from the Adirondacks, master craftsman Gary Hurd led the woodworking. the door to the lodge is a mitered masterpiece—often opened for you by one of the owners or general manager Michael Schmidt. In a joint venture with the McLean family, the lodge is owned and operated by Dwyne Willis and Jeanie Johnson. Other materials, native to the area including six truckloads of Harbor cedar railing and 10,000 square feet of birch bark were purchased locally. And local artisans and furniture makers were contracted to create each authentic detail.
This pristine property is both large enough to explore and small enough to pamper. Curl up on the Gathering Lodge's leather sofa with a good book before the roaring flames of the (real wood burning) fireplace. Or clear your head with a walk around the deck and its picturesque views of the fog settling over Mount LeConte. Walk the forest trail. Fly fish for a trout in Buckberry Creek. Pop a Champagne picnic at the creek side pavilion. Or dine in the restaurant on chef Winston Guerrero's refined mountain cuisine. Whether enjoying their signature crab stuffed, cedar planked roasted trout or a late morning brunch, Guerrero's presentations and preparations are consistently outstanding.
For private dining, one can hike to and from the Creekside Pavilion, or be driven there in a Pinzguaer—a rare, Humvee-like military vehicle designed for use in mountains and forests. Riding in back of the vehicle through the black of night forest, music from the pavilion and flames from the two story stone fireplace break the surrounding silence and the darkness. The driver leaves guests with instructions to pick up the pavilion phone when they are ready to return to the lodge. A bottle of wine and a few of hours of rocking, reminiscing, and recapturing romance—before the burning embers and rushing waters of the creek—the call is finally made. And lights from the Pinzguaer soon appear. Guests are transported from this fairytale setting, with a wistful wish to soon revisit this magical place.
As the only all-suite (46 suites total) luxury stay in the Smoky Mountains, Buckberry is the place to recharge and rejuvenate. Each suite boasts its own décor, many including oriental rugs, original art, and authentic Adirondack artifacts. Exquisitely decorated with hand picked furnishings, the Grand Suites feature a generous bedroom, living, and dining spaces along with two lodge-styled fireplaces and two separate private balconies overlooking the Smokies. Two-room Gallery Suites offer a large living room with a fireplace and private balcony. And Lodge Suites include a large bedroom, fireplace, private balcony and a sitting area. All feature luxurious linens, hi-speed Internet, and upscale bath amenities.
The Lodge at Buckberry Creek offers a secluded and exclusive experience with attention to every detail. At Buckberry, the only thing overlooked is the serene beauty of Mount LeConte.