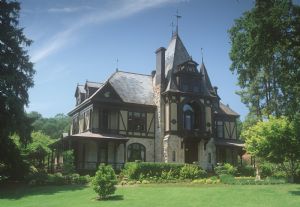 Poetic Napa Valley
Vineyards rise from the earth flanked by white rosebushes and towering redwoods. Wild mustard grows among symmetric rows of sculpted vines in anticipation of spring and bud break. Mountain peaks surround providing scenic views and a blanket of protection. And a spectrum of color from a rainbow suddenly appears in the skies above Meadowood—further enhancing the valley's storybook setting.

Arrive with an itinerary of touring and tasting appointments and reservations at a five-star resort or four-star inn. Stay at Meadowood—the center of Napa Valley's social, cultural, and vinticultural life—on its 250 fairy tale acres with moss and ferns covering stonewalls and towering trees. Get married on the lawn. And challenge your mate at the championship croquet lawns, seven tennis courts, or nine-hole walking golf course. Discover the hiking trails, full-service health spa, and wine country cuisine. Harvest not withstanding, Meadowood also holds the distinction of being the host of the event of the year—Auction Napa Valley.

Dine al fresco on Calistoga Ranch's Lakehouse patio with views of deer roaming. Savor Chef Eric Webster's unpretentious American cuisine. Created from organic products that are grown by Napa Valley and Northern California farmers, the fare is paired with exceptional vintages from Calistoga's custom-designed wine cave. Soak in your own outdoor Jacuzzi with a view of your outdoor fireplace. Then tuck yourself in for a few nights inside one of their 46 exclusive guesthouses—on 157 acres near Calistoga. Or wake in English Tudor style at the enchanted Harvest Inn—where you may think you are still dreaming. Breakfast on your (Whitehall Lane) vineyard patio, lined with red rosebushes. Or walk the brick laid paths beneath brick archways and redwoods, where 50,000 flowers are planted each spring.
Soar above the vineyards on a hot air balloon, cruise down Silverado Trail and Highway 29 in an open convertible, or be escorted via limo to Beringer Vineyards, Napa Valley's oldest winery. Drive through the massive iron gates and past mossy stonewalls to the stately Victorian mansion—Rhine House, former residence of Fredrick Beringer. The gabled roof, with original slate, and walls of stone were built in 1883 after the original, Hudson House (residence of brother Jacob, built in 1850) was pulled on logs by draft horses down the hill to accommodate Fredrick's desire for the family's prime real estate. Then proceed to the Old Stone Winery, and taste a pre release wine from a barrel—followed by a tasting of three current-releases.

Spend an afternoon at Napa Valley's second oldest winery, Schramsberg Vineyards—just as Robert Louis Stevenson did in the 1880s while on his honeymoon. Here he tasted 18 different wines of Jacob Schram's, and later wrote in "Napa Wines" Silverado Squatters, the now famous line, "Wine is bottled poetry." Tour their two-mile maze of wine caves, dug by Chinese immigrants at the turn of the nineteenth century, and uncork the complexities of the méthode champenoise. Sip four of, President and Winemaker, Hugh Davies' sparkling wines in the paneled tasting room, and explore gardens of original Victorian plantings surrounding the historic Victorian Shram House—while looking forward to Davies' upcoming wine dinner in Birmingham.

Arrive at Opus One—where one thousand barrels encircle the Grand Chai, disappearing into infinity, filled with the ultra-premium wines of winemaker Baron Philippe de Rothschild and Robert Mondavi. Snap a few shots of the valley from the rooftop terrace, and steal a casual glance into the Salon, the winery's formal receiving room with French antiques and well-heeled collectors. Discover Joseph Phelps—home to the 2002 Insignia, ranked Wine Spectator's number one wine of 2005—while surveying the Mayacamas Mountains from the terrace. And discern which is more breathtaking, the picturesque perspective from Highway 29 of Cardinale Estate perched on its knoll or their balcony's panoramic view of estate vineyards and the Mayacamas and Vaca ranges. With one taste of their Bordeaux blend, the balcony becomes the preferred view.

Honig Vineyards Sauvignon Blanc is one of Birmingham's favorites. And Elaine Honig often visits the magic city. So drop in on Elaine, and take home a magnum signed by winemaker Kristin Belair. Steer your way up Spring Mountain, 2,100 feet above Napa Valley, to Terra Valentine for the scenic view from Wurtele Vineyard. Taste winemaker Sam Baxter's estate produced Cabernet Sauvignon—surrounded by oak paneling that was originally built for a London wine merchant's office and brought to the United States piece-by-piece for William Randolph Hearst's San Simeon. Picnic at Bennett Lane, and take in spectacular views of their vineyards and Mount St. Helena. Then stop next door at Frank Family Vineyards for a friendly taste with one of Napa's best-known personalities, Dennis Zablosky. He pours $100 bottles or pre-released wines for both old and new friends.

Walk between the white picket fence and beneath the rose adorned arbor to Nickel & Nickel's 1884 Queen Anne-style, Sullenger House. Explore the farmstead's eighteenth century Gleason Barn, Fermentation Barn, and underground barrel-aging cellar. Then taste four single-vineyard wines in the hospitable dining salon. Explore Trefethen's historic 1886 three-story wooden, gravity flow winery. And relax in their Wine Library for a library tasting of wines made exclusively from Trefethen's own grapes. Then get a taste of Merryvale Vineyards—the first winery built after the repeal of Prohibition—with Philip Paxton. And tour their historic cask room lined with 100-year-old, 2,000 gallon oak casks.

Take an educational tour of the vineyards and winery of Cakebread Cellars. Meet Jack Cakebread, who was a freelance photographer in the 1960s visiting Napa on assignment—a visit, which eventually led to his purchase of the 22-acre vineyard. Pair art with wine at Clos Pegasus, while viewing Jan Shrem's collection of antique sculptures nestled in niches and alcoves of the 20,000 square feet of caves and savoring winemaker Shaun Richardson's latest vintage. Make a final toast to the trip with Mumm Napa Valley's sparkling wines while leisurely viewing their art gallery of famous photography.

The departing drive down Silverado Trail brings a less appealing view of Napa Valley—the one in the rear view mirror. Yet this well-trodden road is paved with promises to lead me back again.