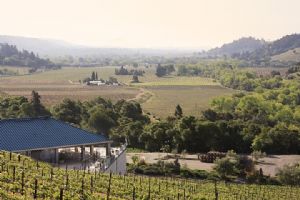 Sonoma Sojourn
Driving through the country roads in a white Solara convertible provides an unparalleled, view from the roots of the vineyards to the billowing heavens above. Arriving at the ultimate wine country oasis, The Fairmont Sonoma Mission Inn and Spa is a destination in itself. And their ultimate romantic accommodation is a Mission Suite, which is constructed in an open floor plan, featuring a two-person oversized Jacuzzi tub that is centrally located between a four poster, king size bed and working fireplace. The suite also has a seating area, complete with a love seat and two chairs in front of the fireplace, a patio with French, arched doorways and tile accents.

Two dining options are offered at the resort including a casual eatery, The Big 3 and a fine dining restaurant, Santé—as well as poolside and in room dining options. Dinner at Santé cannot be missed, and highly recommended are the Dungeness Crab Stuffed Squash Blossom, Snake River Farms Pork Loin with creamed corn and tomato concasse, and dessert of the Pineapple Bruschetta. This elegant Spanish style resort is also blessed with natural mineral hot springs, making it the ideal location for a luxury spa. Select a treatment or a package, which begins with a self-guided tour of the cool, warm and hot water ritual.
Although it is difficult to leave this lap of luxury each day, "duty" calls. With four selected winemakers/vintners on my itinerary, only one is scheduled for each day. And the tour begins with a picturesque drive toward and along Lake Sonoma. Adjoining the property is picturesque Sbragia Family Vineyards, the dream come true reality of legendary winemaker Ed Sbragia.


"It is the fulfillment of a promise and the culmination of a dream," Ed explains as he provides a tour of the property. Here Sbragia carries on his father, Gino's legacy and fulfills his promise to continue making wine in Dry Creek of Sonoma County. "My grandfather came here from Tuscany and worked in the wineries. And my father was born in Dry Creek and bought his own vineyards where he grew and sold Zinfandel grapes." As the Wine Master of Napa Valley's Beringer Vineyards from 1976 until 2008, Sbragia grew up in Dry Creek and still lives here. He is presently the Wine Master Emeritus of Beringer Vineyards and Wine Master of Sbragia Family Vineyards, and mentor to his son Adam, Sbragia Vineyard's winemaker.

The winery has a terrace with picturesque views of the entire Dry Creek Valley. Inside there is a retail tasting bar, a commercial kitchen—used by local caterers for weddings and other private events held on the terrace—and a tasting room. Here the Sbragia collection is tasted with Ed and Adam, surrounded by Gino's winemaking tools and wine press. These big, rich, limited production, single vineyard Chardonnay, Cabernet Sauvignon, Merlot, and Zinfandel are made primarily by from vineyards long owned by the Sbragia family, as well as select vineyards in Napa Valley. And they fulfill more than a promise. "Each bottle is my way of saying, 'thank you' to my dad, Gino," Sbragia explains.


The third day offers an afternoon at Kunde Estate Winery and Vineyards. Over the past 100 years, five generations of the Kunde family have farmed the 1,850 contiguous acre ranch in Sonoma County's Valley of the Moon. Committed to sustainable winegrowing, the land is also being preserved for the Kunde generations yet to come. Lunch on the patio—aside the new winery building—with winemaker Tim Bell and vintner Jeff Kunde provides the opportunity to taste the portfolio of twenty wine grape varietals used in their ultra-premium, estate wines, which capture the beauty and flavors of the property.


Afterwards Kunde provides an eco tour in his four-wheel drive pick up truck. From the valley floor, we drive up the rolling hills to the towering, terraced slopes of the Mayacamas Mountains. Along the way Kunde drives down a path between the vineyards, picking grapes ripe for harvest. We continue up the mountain munching on grapes as Kunde's truck struggles forward up the terrain. With each stop and breathtaking view, Kunde proclaims, "Just wait. This are not the pretty spot," until we finally reach the top. And it is here Kunde proudly states, "Now, this is the pretty spot." This spectacular view and eco tour is available to the public—including a hike, lunch and tasting—once a month, from May through December. Beyond tasting the incredible wines and witnessing the sustainable agriculture at every level, this bird's eye view from the "pretty spot" is worth the tour itself.


On the fourth day we arrive at Gundlach Bundschu and hop inside another pickup truck—with Jeff Gundlach, president and sixth generation vintner of Gundlach Bundschu—also known as "Gun Bun." The winery produced its first vintage in 1858. The estate vineyard, christened Rhinefarm by winery co-founder Jacob Gundlach, is approximately 320 acres. It stretches 1.5 miles along the southeast base of the Mayacamas Mountains in Sonoma Valley. Jeff's father and winery founder Jim Bundschu, a master viticulturalist who has been growing grapes for nearly four decades, farms the property.

Again we pick grapes between the rows of the vineyards from the window of the pick up and enjoy them on the ride up. The diversity of plantings includes approximately 85 percent planted to Bordeaux or Burgundian varietals, with the remaining acres to other special limited production varietals, such as Zinfandel, Gewurztraminer and Tempranillo. From our vantage point at the top of the mountain, we see the Infineon Raceway and the top of the Golden Gate Bridge in the same view. Then back down at the winery, the wine cave, 430 feet long and 10,000 square feet, stores approximately 1,800 barrels of Gun Bun wines and niches with tasting tables where we enjoy a Cave Tasting of the diverse portfolio of Gun Bun's beautiful wines, which have been made here for 149 years.


On the final day of touring Imagery Estate Winery and Art Gallery offers other views—on bottles. Labels for the Imagery Artist Collection wines are produced from artwork commissioned from among the world's most notable contemporary artists. The original one-of-a-kind works of art are on permanent display at the winery's gallery. Winemaker Joe Benziger crafts small quantities of rare wines from uncommon varietals and single vineyard varietals. For these wines he has commissioned hundreds of international artists to design these one-of-a-kind labels. "There is no where else you can go and taste this many rare wines," Benziger says, as we tasted examples. These wines are not available for purchase anywhere else. And they are difficult to choose among. So a favorite from the tasting, 2004 Pallas Estate is selected for tonight's sipping, and the bottle with the favorite image, 2005 Mourvèdre is packed for my cellar.


Departing Sonoma County brings one last joy ride and memories of the wines and the views of this vast region and a look at my calendar for another leisurely and relaxing trip to a place deserving of the time, exploration and unrushed sipping.