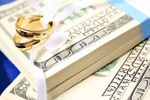 Wedding Budget: Where Do I Begin?
This will give you an outline of what you should spend on each item, so as to ensure you don't spend more than you intend to overall. Your budget is the most important element in your planning, setting the stage for every other decision you make. So it pays to set a firm number right away -- and to stick to it, even when that entails making difficult decisions. Here's how to create a wedding budget that you can afford.
How Much Do You Really Need?
Depending on your area, budgeting about $100 per wedding guest will give you a good starting point. This is roughly broken down into $50 a head for catering, and the remaining $50 goes towards everything else - flowers, attire, gifts, etc. Of course, if you are only having 10 guests, you may have trouble paying for everything else with only $500, but it is a good starting point. This starting point fits with the general rule of the more guests, the more formal and lavish the wedding.
Figuring Out a Basic Wedding Budget
Start off by using a wedding budget planning worksheet to figure out the basics. If you already know some of the costs, such as the reception hall rental or your wedding dress, put in the actual numbers, and adjust the other numbers to make up for it. You can ask friends or relatives who have recently gotten married what they spent on vendors to figure out if these numbers are realistic, or if they need to be adjusted.
Making Room for What Matters in Your Wedding Budget
Prioritize what's important to you, choosing two or three of the things you don't want to compromise on. You may decide that you want to have an amazing photographer, but you're happy to hunt for a bargain on the dress. If you're having a small wedding, your catering bill won't be as big a percentage of the budget. You can adjust your budget numbers to reflect your priorities.
Ways to Save on Your Wedding Budget
Start by looking through the budget and crossing off anything that you don't need. For example if you're having both the ceremony and reception at one location, you might not need to include transportation. Don't be afraid to use your contacts. Take advantage of other's experiences and ask recently married friends if they could do it all again, what would they do differently? You may find what you though was a "must have" might really be just a waste of money. If you have friends in the wedding industry ask them if they can help you out, and give you a discount if possible. If the numbers still aren't working out, ask yourself what's really important to you and be prepared to sit down with your fiance and make some sacrifices. Either agree to cut back in some areas, or make a plan to increase your wedding budget.
Breaking Down the Wedding Budget
Reception (Food, Beverages, Rentals and Site)
40 percent to 50 percent
Flowers
10 percent
Photography/Videography
10 percent
Bride and Groom Attire
5 percent to 10 percent
Music
5 percent to 10 percent
Planner or Coordinator
10 percent to 15 percent
Miscellaneous (Invitations, Officiant Fees, Favors, Transportation, etc.)
10 percent
Cushion
5 percent to 15 percent
Five Budget No-Nos
Never -- and we mean never -- go into debt to pay for a wedding. Consider having an intimate gathering and putting off the big reception for a year or two so you can save up for it.
Don't put your wedding bills on plastic unless you can pay off the balance in full as soon as you get each statement. Interest rates and finance charges can add hundreds, sometimes thousands, of dollars to your bill -- even if you only carry a balance for a month or two.
Don't agree to any upgrades without first asking if there will be an extra charge.
Don't spend more than you had anticipated in one area unless you can cut back by that amount in another area.
Don't budget for fewer guests than you invited. It's better to overestimate.