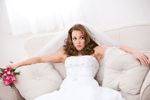 The Perfect Day
Given the rising costs of Birmingham weddings and the fact that absolutely everything must be perfect, it might make sense to buy yourself some peace of mind and insure your wedding.
Types of Wedding Insurance
Event coverage helps protect all you have invested in your wedding-now and throughout the planning period as you put down deposits, sign contracts, and make purchases.
It covers your Birmingham wedding against extreme situations that might cause postponement (severe weather, accident, sudden illness) and against financial loss if the event goes on but you have a glitch along the way-no-show vendors, lost photographs, damage to the wedding gown, and more. Plans vary and you need to make sure you know the details of your plan. Here's a sample of some of the major items that insurance companies cover:
Location: If your ceremony and reception sites don't already carry their own insurance, your wedding insurance policy can cover damage to the site, fire, electrical or mechanical problems, or going out of business that causes you to lose money or have to reschedule.
Attire: This coverage pays to repair or replace the bridal gown or other special attire when it is in your possession and is lost, stolen, or damaged (including financial failure of the bridal store). Special attire usually includes the clothing and accessories bought or rented that are to be worn by the bride, the groom, and attendants at the ceremony.
Weather: Any weather conditions which prevent the bride, groom, any relative whose presence at the wedding is essential, or the majority of the guests from reaching the premises where the wedding is to take place. Insurance covers rescheduling the wedding and all the details involved -- such as ceremony flowers, tent rental, and reception food.
No-Show Vendors: If your caterer, florist, photographer, or other key vendor is missing in action, you'll recover some costs and possibly the costs of rescheduling the whole thing.
Sickness or Injury: Wedding insurance may also include sickness or injury to the bride, groom, officiant or anyone essential to the wedding.
Military: It's true, military personnel may be shipped out at a moment's notice. Wedding insurance can cover postponement of the wedding due to the bride or groom suddenly getting called to military duty.
Wedding Liability Insurance
Wedding liability coverage protects you on your wedding day - if you're held responsible for alcohol-related accidents, property damage, or bodily injury at your wedding or arising from it. This type of insurance is now required by many venues.
What isn't covered?
Canceling because of something you already knew when you took out the policy.
A change of heart. In other words, cold feet don't count.
While your wedding rings may be covered by the policy, your engagement ring probably will not.
Additional Coverage
Couples can take out supplemental policies to defend against damages incurred by other wedding-related expenses.
Gifts: Whether they're mailed to your home or handed to you on your wedding day, valuable items like gifts are something else you might want to consider insuring. Think about a party crasher lifting unattended presents from your reception. Gift coverage pays to repair or replace non-monetary gifts that are lost, stolen, or damaged.
Honeymoon: Your honeymoon can cost as much as a new car. But before buying travel insurance to protect your investment, see if your credit card and/or homeowner's policy covers you if your luggage gets lost, your trip is delayed, or you have to cancel due to sickness. If not, you can a buy separate, trip-only policy. Call your insurer, or ask your travel agent for details.
Things to know
Don't wait until the rehearsal dinner to talk about insurance. If you are considering wedding insurance, most companies recommend that you take out a policy as soon as you start to incur costs. Some companies require a minimum time frame to take out a policy such as two weeks before the wedding.

Every Birmingham wedding is unique and every insurance policy is different. Make sure you know the facts and do your homework. Have your insurance agent explain every detail to you and make sure you completely understand your policy before you make a commitment.