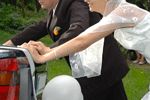 Peace of Mind
From a sudden cancellation to stolen gifts to a damaged gown, wedding insurance can help protect you against the unforeseen, and can also afford you great peace of mind. But what exactly is wedding insurance-and how does it work?
What is it?
Wedding insurance is exactly what it sounds like-an insurance policy that covers your wedding and financially protects you against misfortune and mishap.
Wedding insurance, just like home or auto insurance, is designed to protect your investment from unforeseen circumstances. If a hurricane prevents your guests from showing up, the bridal boutique goes out of business before the dress is finished, or the reception hall burns to the ground two days before the wedding, insurance may cover you for all of the money you have spent.
Sure, it may seem like there is a slim chance of any of these things ruining your perfect day, but then again, what's the chance of your house being hit by lightning? Insurance can also cover some more believable scenarios such as the photographer losing all the film or the caterer not showing up. Most people think of the wedding day as a one-shot deal, with the slightest glitch being a possible disaster. Wedding insurance might give you another chance if things don't go right.
Is it right for you?
The decision to purchase wedding insurance is a highly personal one. As the average cost of weddings rises, now $27,000 in the U.S., wedding insurance becomes more of a necessity. If you are having a less expensive affair, or are a couple that likes to live with risk, perhaps you'll decide to forgo the insurance. Keep in mind that you can get a less expensive policy that will only cover either a more intimate affair or a specific risky part (such as if you're worried about your luggage getting lost en route to your destination wedding; wedding insurance could cover the cost of quickly replacing your gown and tuxedo).
How much does it cost?
A basic insurance policy that typically covers cancellation and loss of photos, attire, rings, and deposits usually costs anywhere between $125 and $500, depending on the amount of coverage you want. General liability insurance, which covers up to $1,000,000 for accidents, can cost around $185.
Before you buy wedding insurance, check with your each of your vendors to see how well they're covered. Your reception site or your caterer may already have their own insurance, so you wouldn't want to pay for overlapping coverage out of your own pocket. Ask your vendors for a copy of their policy, and then figure out where you aren't fully covered.