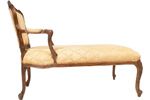 Buying Furniture
The furniture in your new Birmingham home will be one of the biggest investments you will make, so it is especially important that you take the time and care necessary to make sure you make the wisest choice you can.

One of the smartest ways to look at furniture is from the utilitarian perspective. First of all, you want to make sure that the furniture is going to hold up. Check closely the construction quality of individual pieces. In the store, ask plenty of questions of the salespeople. Even if it means putting off purchases, go for the highest in quality construction every time.

Each piece you buy should have a purpose, whether it's utilitarian or decorative. Remember that classic pieces can serve different purposes in different homes. For example, an armoire could hide stereo equipment and a TV in one room and clothes and accessories in another.

Whether you buy new or antiques, buy the best you can afford and buy pieces that you want to live with for a long time. Your furniture is too important and too expensive to be stuck with a lemon—unless that is the color you really want.