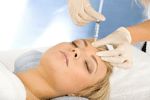 Looking Your Best
The following information can help you plan for your aesthetic enhancement procedures so as not to make your already busy wedding plans any more difficult. Always make sure to verify recovery times with your dermatologist so you can time your treatments well ahead of the big day.
Popular Treatments:
Botox
This procedure can erase years from the face or neck by reducing the appearance of lines and wrinkles.

• Crow's feet
• Forehead lines
• Frown lines between the eyebrows
• Neck bands and lines
Chemical Peels
This procedure peels away many visible signs of aging on the face, hands, neck, and chest. After the skin heals, fewer wrinkles, less discoloration, and improved texture may be seen.

• Age spots
• Discoloration (blotchy complexion, uneven skin tone)
• Dull complexion
• Fine lines (especially under the eyes and around the mouth)
• Freckles
• Rough-feeling skin
Dermabrasion
This cosmetic procedure literally sands away damaged skin. As the wound heals, new skin appears that is smoother, more radiant, and even in tone.

• Scars, primarily shallow scars resulting from acne, chickenpox, or an accident
• Wrinkles, especially deep lines that form above the lip
Dermal Fillers
Dermal fillers are used to reverse the effects of aging by reducing or eliminating wrinkles and replacing soft-tissue loss.

• Full, sexy lips
• Smoother, more youthful -looking skin
Lasers Hair Removal
Offers long-lasting hair removal and some permanent hair reduction.

• Bikini area
• Chest
• Face, especially the upper lip and chin
• Neck
• Shoulders
Laser Skin Rejuvenation
Today's lasers can diminish many signs of aging - from early wrinkles and age spots to deep lines and spider veins.

• Age (sun) spots
• Dark circles under the eye
• Dry, dull skin
• Fine lines
• Freckles
• Hand rejuvenation (age spots, loose skin, and lines)
• Redness and flushing
• Scars
• Skin texture (treats roughness)
• Skin tone (treats mottled complexion and skin discoloration)
• Spider veins
• Stretch marks
• Tattoos (removal)
• Unwanted hair
• Varicose veins
• Wrinkles


Microdermabrasion
This resurfacing procedure gently exfoliates, revealing skin that is smoother, brighter, and more even in tone.

• Age spots and patches of darker skin
• Dullness that develops in aging skin
• Scars, can smooth very shallow scars
• Shallow wrinkles
• Uneven skin tone or texture
Skin Tightening
While these devices do not deliver the results of a surgical lifting procedure such as a facelift, they can produce mild to modest tightening by sending heat deep into the skin.

• Firm forehead and cheeks
• Lift the eyebrows
• Tighten jowls and neck
• Reduce wrinkles around the eyes
• Diminish the appearance of cellulite
• Tighten skin on the abdomen, buttocks, arms, and thighs
Important Questions:
Will a board-certified dermatologist perform the procedure? The success of any cosmetic procedure is highly dependent on the knowledge and skill of the person performing it. For this reason, the American Academy of Dermatology urges everyone considering a cosmetic procedure to select a doctor who is board certified in dermatology or a similar medical specialty.

How many times has the doctor performed the procedure? The procedure should be one that the doctor performs regularly. When physicians have specialized training in performing a procedure and have successfully performed the procedure on numerous patients, they usually want others to know.
What results can I expect? While results depend largely on the skill and experience of the doctor, the condition of the patient's skin as well as the patient's age and health affect the cosmetic outcome. A dermatologist typically tells a patient what to expect and can tell the patient if the procedure will deliver the desired results and if it is appropriate for the patient.
May I see before and after photos of patients or speak with patients that the doctor has treated with this procedure? Doctors should be willing to share their results through photographs or referrals. If a physician is hesitant to do so, find one who will.
What is the recovery time? While cosmetic procedures have become less invasive and require less downtime, patients should know what to expect after the procedure.
What are the risks and side effects of the procedure? While the risks involved in most cosmetic procedures are minimal, they do exist. Potential complications should be discussed before the cosmetic procedure is scheduled.
How long will the results last? Most cosmetic results are not permanent. A patient's lifestyle and overall health will generally determine the length of time that a patient sees the results.
Where will the procedure be performed? Most cosmetic procedures can be safely and effectively performed in a physician's office, surgical suite, or outpatient surgical center.
What follow-up care is included? Follow-up care is an important part of cosmetic surgical procedures. Be wary of undergoing any cosmetic surgery that does not include follow-up care.
What is the cost of the treatment? Insurance usually does not cover the cost of a cosmetic procedure. Before scheduling the procedure, find out the costs and when payment will be required.