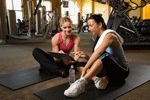 Getting In Shape
Still, there are people who are afraid to enlist the help of a personal trainer, unsure of what they'll get out of the experience or whether it's worth the money. To help you decide if it's good idea for you, we've listed a few reasons people typically hire personal trainers.
You're Stuck
If you've been exercising consistently for several weeks or months and aren't seeing the improvements you'd like, hiring a trainer could be a smart move. A trainer can look at your current program and eating habits and help you see where you could make changes to create more effective workouts.
You're New
If you are an absolute beginner, a personal trainer is the ultimate fitness coach. A good trainer will start you on a simple, effective routine and build gradually. Before you know it, you will have the confidence and knowledge to decide what is right for you.
You're Busy
A personal trainer will help you focus on results and won't waste your time with inefficient workouts. A personal trainer knows what will help you get maximum results in minimum time.
You're Bored
If you're an experienced exerciser, maybe you haven't considered working with a trainer. But it can be a great choice if you need some variety in your workouts. A trainer can bring a fresh perspective and new ideas. Even if you just do a few sessions or meet every few weeks, you'll find it a refreshing change of pace.
You're a Slacker
If you're like most, you tend to slack off on your workouts sometimes, especially when things get tough. A trainer can encourage you to work harder, go longer and challenge yourself more than you would on your own.
You Want to Fly Solo
Even if your goal is to create your own workouts and exercise by yourself, hiring a trainer for a few sessions can be a great benefit for learning the right way to exercise. All good personal trainers will teach you the basics of building and modifying a fitness program to achieve maximum results.
You Give Up
One of the main reasons people benefit from a personal trainer is that they maintain the motivation to stick with a consistent exercise program. Personal trainers can provide structure and accountability that will help you to reach your fitness goals.
Medical Conditions
If you have any specific issues like asthma, heart disease, old injuries, etc., working with an experienced trainer can help you find a program to help heal injuries and avoid any further problems.
You Want to Stay Home
If you'd like to exercise at home but don't have a lot of equipment or aren't sure how to use what you have, in-home personal training can be helpful. A trainer can show you how to use what you have, or they can recommend new equipment that will give you a great workout.
What to Look for In a Personal Trainer
• They're Educated: A personal trainer should be certified through a reputable fitness organization such as ACSM, ACE or NSCA.
• They're Prepared: Your trainer should have an updated certification in CPR and/or first aid.
• They're Experienced: Make sure your trainer has an appropriate amount of experience, especially in relation to your goals.
• They're Informed: If you have a specific medical problem, injury or condition (such as heart problems, diabetes, etc.) make sure your trainer has education in these areas and will work with your doctor.
• They're Attentive: A good trainer will be focused only on you during your sessions.
• They Listen: A good trainer will listen closely to what you say and make sure he understands your goals.
• They Monitor: A good trainer will regularly assess your progress and make modifications if necessary.
How to Find a Personal Trainer
One place to look is your local gym. Most gyms have personal trainers on staff and offer attractive packages for personal training. You can also look in the yellow pages to find a trainer in your area. The cost can run anywhere from $30 to $70 a session, depending your trainer's experience and education.