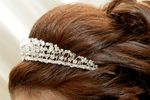 Prepare for the Hair
Hair should be a woman's crowning glory, and most especially on her wedding day.
Getting married is the most special day of your life and it only happens once...or two...or three times. To avoid the grand occasion turning into a showdown between you and your hairdresser, listen to my advice.

Please resist the temptation to use that special day to launch a new "do"- trust me, you'll have enough to worry about without wondering if your stylist truly captured the simple beauty displayed by Katie Holmes at her marriage to Tom Cruise. (But if you're not a delusional young bride with a Daddy complex you needn't worry).
If you've done your homework you'll have already decided what hairdo and accessories will grace your wedding dress. Now I must at this point say something about wedding gowns. Remember that the focal point should be you and not your wedding dress. This is not to say that you shouldn't find the loveliest gown you can; one that makes you feel like the goddess you truly are, but the gown should enhance, not distract, from the essential you.

That being said, let's focus on hair. I cannot stress this enough, stick with what works for you. If you customarily wear your medium length hair in a casual bob, consider just taking it up a notch or two; not teasing it into a two foot high bee-hive with spit-curls and streaks of glitter. (I only wish I were kidding about that one… I had the misfortune of attending a wedding where the bride was pinned, teased, glittered, sprayed and shellacked within an inch of her life. She towered over her bride-groom, and her attendants all wore Sea-Foam green rayon gowns, replete with puff sleeves, ruffles, lace and bows. It looked like a Saturday night in Petticoat Junction.) For example, turn up the glam in your daily bob by using tiny sparkly pins to hold the hair behind your ears. Or pull it back into a soft chignon, and tuck a tiny, perfect rosebud into it. Do you see the idea here? Use what works for you. And unless you truly are the princess of some little known municipality please don't wear a crown or tiara.

It seems that some brides-to-be are genetically programmed to turn into fifties-prom queens on their wedding day. This means high, hard, unstylish hair lacquered into monumental dullness by layers of Aqua-Net. Others go for the sixties style of huge flips with tiny satin bows set above the bangs. Some are stuck in the seventies and insist upon the pseudo fairy princess "do" with a pompadour in front, long sausage curls in back, with miles of fake pearls running through the whole mess. Skip the eighties all together unless you plan to have Adam Ant sing at your wedding, (although I hear he needs the work). Still, others feel that no matter how becoming their normal hair is, they must torture it into some unrealistic shape and style for their big day. Remember it's 2008 and you have the freedom to set your own style for your wedding hair, and trust me here- less is more.

A common mistake made by women with short hair is assuming that they must grow their hair out for their wedding day. That's perfectly all right if that's what you'd like to do but if you want to keep your hair short there is so much you can do without resorting to teasing and stiff hair spray, unless of course you really like that look. If you do, by all means do it! But if you want to look like yourself on your special day then let your stylist show you ways to adapt your regular look into something a little more "foo-foo" for the occasion. Short hair lends itself to more variation than you might think.

Here are some basic rules to keep in mind when planning the big day. As soon as the date is set, book appointments for yourself and your wedding party with your stylist, even if it's six months to a year away, it's never too early. Make sure you are using your regular stylist who already knows your hair. Your wedding day is not the day to change hairdressers. If your current stylist doesn't do special occasion hair, it's a good idea to find one that does and switch to them from now until after the wedding. This will give you both time to get to know each other and to make a plan for your wedding hair.

It's also a good idea to arrange a date with your hairdresser to discuss and try out possible updo's, styles, and any color and length changes well in advance of the big event. Don't wait till the last minute to try out new color, highlights, or hair extensions. Not that they aren't good ideas, but there will be enough stress on your wedding day without adding to the worry that people will be thinking, "Why did she do that to herself on her wedding day?"

Now if you're the kind of woman who doesn't usually go to a hairstylist on a regular basis then you obviously don't care how you look. If you were happy with yourself the other 364 days of the year, then why bother now? Just be happy you got a husband. For the rest of you fashion savvy ladies, when making your wedding-hair plan with your hairdresser be sure to include any attendants and mothers of the bride and groom that they will be styling, so that you can have an accurate estimate of the time and cost involved to avoid any nerve-wracking delays on your wedding day.
Oh, and a word to the wise: keep your mother away from you and your hairdresser at this time. If your mom knows how to do a French roll or a Belgian braid, she'd be doing it for you instead of telling your stylist every move to make. Mom will only make you nervous and add to your stress. And I personally don't want to hear it either. As a matter of fact it's a good idea to start mom off with a pitcher of Mimosa's first thing in the morning! By the time your appointment rolls around she'll be all smiles.

At that magic moment when your fiance' first pops the question and slides that ring on your finger, start thinking of ways to make your wedding day fun and stress free. Along with the plans for the gown, the cake and the ceremony, enlist the help of your trusted hairdresser and set the course for your hair care needs from now until the honeymoon. Trust me on this, go with a workable comfortable version of your own regular hairstyle and you can glide down the aisle with grace and style.
Remember, even the most perfect wedding may have a few bumps: your mother is drunk, the groom's mother is in an all out brawl with her ex-husband and his new wife Candy, the best man is hung-over, the attendants are still miffed over who you chose to be maid-of-honor, the cute little boy and girl ring bearers won't stop pinching each other, and to top it all off your kid brother forgot to empty the contents of the cans he tied to the back of your car and you're sure to be leaving a trail of LeSeur peas in your wake as you leave the reception. But no matter the outcome you can look in the mirror and say to yourself, "But my hair looks great!"