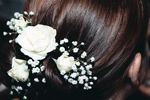 Wedding Day Hairdo
"He will love you no matter how you wear your hair," says Tonya Jones, master stylist at Richard Joseph SalonSpa in English Village. "But, she says the groom-to-be's wishes are often a key factor in the bride's hair decision."
Here are a few key factors Jones wants Birmingham Brides-To-Be to keep in mind:

Face First:
Your first consideration should be the shape of your face. If you are self-conscious about your large ears, for instance, a beautiful upstyle may not be your most flattering look.

The Long and Short of It:
What is the length of your hair now? If your hair is short, do you have time to grow it out to a length that will allow you to wear it up? If not, the point may be moot.
The Dress:
If you are wearing a halter, a high-neckline or anything that approaches your face, consider wearing your hair up. If you dress is off the shoulder or a lower cut, or if you are not wearing a veil, you may want to let your hair down.
Focus, focus, focus:
Choose ONE focal point for your entire look. If your dress is an intricate attention-grabber, you may want to go for a simpler hairstyle - down and back or up in a chic chignon. If your dress is elegantly understated, consider a stunning veil, an intricate upstyle or a lovely jewel or flower in your hair.

Hot Hair Trends for Brides:
Up – Big barrel curls, a side part with a swooped bang
Down – Soft, flowing, wavy curls.
Flowers in Hair Photo: Avalon Studio