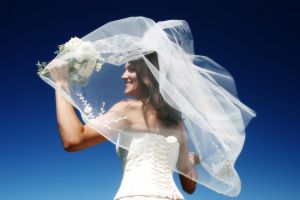 Style Selection
While researching bridal websites and magazines for dresses look for hairstyles too. If you plan to wear a veil or headpiece, search for hairstyles with a similar headpiece. And bring photos to your stylist.


Select a stylist who is an expert at styling "wedding hair." The stylist can recommend styles that work with your hair and complement your facial shape.


Also consider the typical weather and climate. Birmingham is very humid in the summer, which leads to deflated dos and frizzies, especially if you are planning an outdoor wedding.


Also consider your dress. For example, if you are wearing a strapless gown and no veil, an up-do may leave you too bare, whereas the same hair-style would work beautifully with a high neckline.


After selecting a stylist recommend him or her to your bridesmaids. The bridesmaids dress and hairstyles should also complement each other.

Main Image: Unplugged Photography
Last Image: Avalon Studios