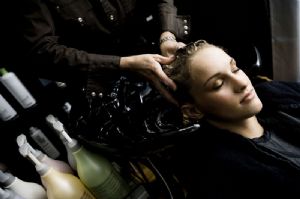 Hair Countdown
Hair Countdown Six Months Prior:
Book wedding day appointment with your stylist.
If you are planning a wedding in another city far from where your present hair stylist is located, begin searching for a stylist.
If you want to grow your hair a bit, change to a shorter style, or try a different color, discuss options with pictures of desired look with your stylist, who can offer advice for your coloring and facial shape.
Consult with your stylist with a picture of your gown and before selecting a veil, headpiece or hair accessory.
Make appointments for haircuts and color over the next six months so that your hair is the perfect length can color for your wedding day.
Hair Countdown Two Months Prior:
Have a hair rehearsal with your stylist after selecting your coiffure. Bring the veil, headpiece, or hair accessories you plan to wear along with the picture of your gown. Wear a blouse that is similar in color and neckline to your gown.
Hair Countdown One to Two Weeks Prior:
Get final haircut and color. Don't even think about a new look at this late date.
If you have bangs, remind stylist not to cut too short.
Hair on Wedding Day:
Have hair done in early enough in the day so that you are not stressed by it but late enough to avoid a falling do.
Final touches need to be made after make up if done and before you are dressed in your gown.
Nails Countdown Three Months Prior:
Start growing short nails into shape and controlling cuticles by getting regular (weekly or two week) manicures.
Try a French manicure, and other light shades of sheer pink, and beige. Select same shade for your pedicures.
Moisturize hands and nails before bedtime with products suggested by you manicurist.
Traveling is hard on your nails. Schedule a manicure for a time that is convenient during your honeymoon. If your honeymoon is an extended one, schedule a pedicure too.
Begin monthly pedicures.
Between appointments moisturize feet before bedtime. Use any products as directed by your pedicurist.
Avoid using nails for anything other than showing off your engagement ring. They are jewels, not tools.
Nails Countdown One-Day Prior:
Have manicure and pedicure, and allow time for drying completely at the salon or spa so that your polish will last until you can get another during your honeymoon.
Purchase the polish and topcoat used so you can touch up in the event of a chipped nail or polish.
Again, avoid using nails for anything other than showing off your engagement ring. They are jewels, not tools.